Mariah Carey, New Year's Eve
Mariah Carey has made herself a legend as a musician. Plus, her music is fairly common to hear as the holidays roll around. As such, it seemed like she was the perfect choice for Dick Clark's New Year's Rockin' Eve.
However, the star ended up giving an infamously bad performance in 2016. Later on, Carey's team would say the singer was struggling due to a malfunctioning earpiece disrupting the audio she was supposed to be hearing.
Robin Thicke, MTV Music Video Awards
The 30th MTV Video Music Awards in 2013 had a few shocking moments. It was Robin Thicke's performance with Miley Cyrus that really stole the show. Unfortunately, they stole the show for all the wrong reasons.
The performance was overall dubbed uncomfortable by viewers and critics. Later on, Cyrus shared that she felt the performance was expected of her and has opted for a different performance style in her career since.
Ashlee Simpson, SNL
Saturday Night Live seems to be a place where musicians either really nail it or really don't. Ashlee Simpson was memorable for all the wrong reasons.
When Simpson came out to sing her song "Autobiography," the vocal track for another song of hers caught the singer by surprise. She tried to make the most of the moment with a bit of a dance but critics and fans were none too impressed.
The Everly Brothers, Starting a Haitus
If you aren't familiar with a lot of '50s and '60s music, The Everly Brothers were a duo to be reckoned with at the time. The two brothers performed together for much of their early life.
In 1973, the two were set to put on a concert but it was canceled before the two even made it through their set. When Don Everly showed up in no shape to play, it started a huge fight between the two, even causing a hiatus.
Miguel, Billboard Music Awards
When you're performing live, you have to do more than sound good. A lot of musicians put a lot into their stage performance as well. In fact, people try a lot of wild things to keep the crowd engaged.
Performing at the Billboard Music Awards, singer Miguel attempted to leap over the crowd from one part of the stage to another. The only problem was he managed to collide with a fan in midair. The singer found himself in line for a lawsuit after the incident, too.
Poison, MTV Awards
As far as hair metal goes, Poison started off strong with live shows that impressed fans almost every time. That's not quite what happened when the band performed at the MTV Awards.
When the band was ready to go with "Unskinny Bop," guitarist CC Deville started playing "Talk Dirty to Me" instead. The bumbled performance led to a backstage fight between Deville and lead singer Bret Michaels, and Deville left the band shortly thereafter.
Winter Magic Halftime Show
The live shows we see at halftime during the Super Bowl haven't always been the latest pop star or a rock star complete with pyrotechnics. Yet, the halftime show for Super Bowl XXVI in 1992 was a bit strange.
Football fans were treated to a live show with famous figure skaters and danced to songs like "The Nutcracker." All in all, it doesn't quite seem like a bad live show but maybe it's an odd venue and audience. The next year's choice of Michael Jackson makes it seem as though they decided to change tactics.
Justin Bieber, Feeling Unwell
We can't blame Justin Bieber for what happened at this concert. After all, no one wants to be sick. During his 2012 tour titled "Justin Bieber Believe," the singer seemed to start strong.
It wasn't long before things took a turn, though, as the musician stopped and threw up twice before leaving the stage. Addressing the issue later, he'd cite too much dairy that night, so he made it out okay in the end!
Lana Del Rey, SNL
When Lana Del Rey was the musical guest on SNL, it was a big deal. Her 2012 appearance made her one of the only musicians who appeared on the skit show before releasing a full album. However, she already had fans from singles she'd released.
They weren't too impressed with the performance on Saturday Night Live, though. Far from the worst performance we've seen, the singer just seemed to fall flat that night — everyone has a bad day at work!
Greta Van Fleet, SNL
It was in 2019 that Greta Van Fleet landed a spot as the musical guest on SNL. Sadly, they secured their spot as one of the more lackluster acts at 30 Rock.
The crowd was ready to be dazzled, given the band's inspiration from the big rock acts of the '70s. What they actually saw on stage was a rather tentative performance that left viewers disappointed. Still, it wasn't a career-ruining performance by far.
Red Hot Chili Peppers, Halftime Show
Some bands seem like they'd make for a pretty decent halftime show. Red Hot Chili Peppers could have been a really promising choice. Instead, fans were quickly left noticing something was amiss.
Was the band really playing? Shortly after the show, it came out that the band's instruments weren't plugged in. Bassist Flea later shared that while the vocals were live, the drums, guitar, and bass were not.
The Pussycat Dolls, American Music Awards
In 2006, The Pussycat Dolls gave a performance that no one was likely to forget. They were performing their song "Buttons" at the American Music Awards. At least, that was the plan.
Near the end, member Melody Thornton made a sudden decision to take center stage and start improvising vocals. The other vocalist in the group, Nicole Sherzinger, was visibly surprised at the move — making for a pop culture moment no one would forget anytime soon.
The Replacements, SNL
The Replacements were all set to give a good show at SNL. In fact, it was reported that the dress rehearsal went great!
When the live show came, it was clear the band had partied before the show began. This led to a messy set, complete with an uncensored swear on live TV. Lorne Michaels, the producer of SNL, quickly banned the band from returning.
Queens of the Stone Age, Rock Am Ring
Some shows seem to go wrong at every turn. It went so wrong for the Queens of the Stone Age that they all got tattoos to commemorate the event.
The band wasn't small potatoes when they played at Rock Am Ring in 2001. Still, they dealt with gear failure, a smoke machine that wouldn't stop, and a crowd that could basically only hear the guitars from the performance.
Katy Perry, NRJ Music Awards
Katy Perry was set up to perform "Roar" when she stepped on stage at the NRJ Music Awards. Yet, something embarrassing happened instead. As the performance continued, it became increasingly clear the singer was having trouble with the backing track.
Shortly into the performance, the host came out and asked if she'd like to restart. The star was accused of lip-syncing, although the NRJ Awards later said the singer was singing live but had launched the wrong backing track.
Karmin, SNL
Karmin originally found their success on YouTube performing covers. Eventually, the duo was asked to perform on Saturday Night Live as a musical guest.
The move to TV could have been a chance for enhanced publicity but the duo was torn apart for the live performance. Critics went after every part of the performance, from the music to the way they performed. It also didn't help that, only hours before, the news had come out about Whitney Houston's passing.
Led Zeppelin, Live Aid
The Live Aid concert was supposed to be a real comeback for Led Zeppelin. The band hadn't performed live since the death of the band's drummer, John Bonham.
Five years after Bonham's passing, Led Zeppelin took to the stage at Live Aid to fans' disappointment. Jimmy Page struggled with an out-of-tune guitar while Robert Plant was hoarse. For a drummer, they called in Phil Collins, who didn't seem quite prepared for the show.
Altamont Speedway, 1969
The Altamont Speedway concert in 1969 was supposed to be a peaceful concert with great acts like the Rolling Stones and Crosby, Stills, Nash, & Young.
The event forewent a traditional security team, though, and opted to hire The Hell's Angels instead. The only problem was the plan didn't quite work out and the event was far from peaceful. Plus, the motorcycles were noted to have drowned out a lot of the music.
Corey Feldman, Today
Corey Feldman was already a well-known star when he went on Today for this performance. However, he wasn't famous for his music. This was actually Feldman's debut as a musician after a lifetime of acting.
Sadly, the performance wasn't all that the audience hoped for. Instead, they were given a confusing set and dance moves that critics were less than impressed by. It wasn't the end of his career as a musician, though.
Green Day, iHeartRadio
Green Day has been around for quite some time. That's something Billy Joe Armstrong reminded everyone of during an iHeartRadio performance.
The band was going into their last song when the singer noticed the band had a notification on a screen reminding them they only had one minute left. This time was quickly filled with a rant ending in a smashed guitar and an angry walk off the stage instead of finishing the song.
Smashmouth, The Bread Incident
There are some things you expect to see at a concert. Usually, you wouldn't see audience members armed with full loaves of bread, though. When Smashmouth performed at a food festival, that's what one of the vendors gave out.
As a result, the audience had plenty to toss at the band when they came on. The lead singer, Steve Harwell, started to admonish and threaten the crowd before being stopped by security.
Fergie, The National Anthem
There are some gigs that people are a lot harsher about. Performing a pre-written song like the United States' national anthem is a great example of that.
When Fergie took the stage at the NBA All-Star Game in 2020, critics were not kind. The singer tried to put her own spin on the tune but the result was a strange tone for the song and filled with notes that were far from show-stopping.
Sly Stone, Coachella
Sly Stone had a long performing history when he took the stage in Coachella in 2010. The only problem was that this was easily one of his worst performances. Fans who were excited to see the legend take to the stage felt that excitement dissipate quickly.
The musician took to ranting on stage and gave an overall lackluster performance when it came to vocals. Overall, it wasn't what festival-goers were hoping for from the former member of Sly and the Family Stone.
Carly Rae Jepsen, 20 Teacups
Whether or not you like her music, Carly Rae Jepsen did take up a good cause when she performed at a charity event at DAVIDsTEA. The singer herself may have put on the show of her life but we really wouldn't know.
The event expected to sell about 30,000 cups of tea for their Cup of Warmth campaign. Yet, the audience that showed up only dented that number by 20 sales, which doesn't make for much of a crowd. Still, the singer held a meet-and-greet for those few audience members.
Stornoway, Oxford
Live shows are prepared performances. Just like any other live performance, this means asking a band to improv for a while is no small feat. For Stornoway in 2006, they were thrown the ultimate challenge.
The band was supposed to be one of three bands that day but ended up being the only one to make an appearance. Given that the band had been convincing one of them, Tim Bearder, to come out for a while, they did their best to make it worth it — even in unfortunate circumstances.
Lindsay Lohan, Good Morning America
Lindsay Lohan, like many of her peers in Hollywood at the time, was trying to branch out from acting and add music to her resume.
To promote her new music, Lohan appeared on Good Morning America, complete with a performance of her song "Rumors," a single off of her upcoming album. As a debut performance, critics and fans were disappointed once they noticed the performance was lip-synced rather than sung live.
The Red Hot Chili Peppers, SNL
Once again, it was an SNL performance that made things hard, this time, for Red Hot Chili Peppers. Actually, it was the guitarist of the band, John Frusciante, who decided to throw the performance.
In his autobiography Scar Tissue, Anthony Kedis described the performance as, "Getting stabbed in the back and hung out to dry in front of all of America while Frusciante was off in a corner in the shadow, playing some dissonant out-of-tune experiment."
The Sex Pistols, Winterland Ballroom
The Sex Pistols are among the biggest names in punk history. However, they didn't get there for their ongoing chemistry with one another. When the band played at the Winterland Ballroom, they weren't in top shape, to say the least.
Later, lead singer Johnny Rotten would remark, "By that last gig, I'd lost interest. I'd become incapable of caring about writing another song for this outfit." On stage that night, he remarked, "Ever got the feeling like you've been cheated?" We're sure some fans definitely did.
Katy Perry, SNL
Katy Perry was all set to steal the show at SNL when she came to promote her then-new album. Neither song really landed with audiences. Perry's choice to dance on a table of fruit while performing "Bon Appétit" tended to confuse audiences more than anything.
As for her performance of "Swish Swish," she tried to include some young talent but the choice of opting for Fortnite dances came across as awkward for a lot of critics.
Creed, Sued by Fans
When you perform live shows, fans pay a lot of money to see you — especially if you're a recognizable band, like Creed.
At one Illinois show in 2002, though, Creed member Scott Stapp wasn't really putting his all into the performance, sometimes not even singing at all. As a result, the show was so lackluster that fans decided to sue the band for the disappointment since they didn't feel they got their money's worth.
Nickelback, Portugal Performance
Nickelback is on the receiving end of a lot of hate and has been throughout their entire career. One show in Portugal was particularly ill-fated. In 2002, one audience took things too far, though. As the band was performing, the audience started pelting rocks and bottles in their direction.
Two songs in, lead singer Chad Kreuger offered the crowd a chance to change but when answered with another bottle aimed at his head, the band ended the show.
Oasis, Wembley Stadium
Oasis was already seeing a decline in their popularity when they took the stage at Wembley Stadium in 2000. The performance definitely didn't help. During the show, it seemed like Noel Gallagher was ready for the show, but the same couldn't be said for Liam Gallagher.
As the show went on, Liam was apt to start talking rather than singing or launching into songs with intentionally incorrect lyrics. It wasn't exactly what everyone in the audience was hoping for.
50 Cent, BET Awards
At the 2007 BET Awards, 50 Cent was all set to take the stage. Once he did, fans were left a little confused about what happened.
The musician seemed to botch the first verse, dropping it altogether in favor of greeting other musicians like Snoop Dogg in the crowd. The rapper later shared that he had been distracted from the first verse when a dancer unintentionally collided with him, disrupting his train of thought.
Guns N' Roses, Booed Off the Stage
Guns N' Roses has a reputation for their live shows. They're really good — if the band manages to show up and actually put their all into a show.
While a number of walkouts and subpar performances have sullied their career, it was a 2010 event in which Axl Rose showed up 40 minutes late, as any fan knows is fairly on-brand. The Dublin audience booed and started throwing things in response, up to the point that the band ended up leaving the stage.
Fergie, Sweet Child O' Mine
There are a few things that will always impress a Super Bowl crowd. The Black Eyed Peas had the right idea when they surprised the crowd with guitarist Slash.
Fittingly enough, the band launched into a Guns N' Roses song, with Slash appearing, playing the opening riff of "Sweet Child O' Mine." Fergie was quick to join in on lead vocals but the attempt to imitate Axl Rose's voice rather than rely on her own style for the cover wasn't appreciated by every fan.
Nirvana, Buenos Aires
In many cases, it's up to the musician to give a good live performance. However, we can't blame Nirvana for their reaction to this Buenos Aires concert crowd. For the show, Calamity Jane — an all-woman group — opened for the grunge legends.
During their act, the crowd behaved awfully, even throwing rocks and spitting at the band. When Nirvana took the stage, Cobain originally wanted to cancel for how they treated Calamity Jane but opted for malicious compliance instead, giving them an awful show as punishment.
Katy Perry, X-Factor
Katy Perry has given plenty of concerts over the years and not every single one of them could have possibly gone off without a hitch. Still, X-Factor fans were disappointed with the final product they got when the pop singer appeared on stage.
It's not necessarily that anything too chaotic happened but missed notes and an overall lackluster performance didn't leave the X-Factor crowd too impressed with her song "Fireworks".
Fyre Festival
In 2017, the Fyre Festival was boasted as a promising music festival experience for those who could afford it. Plus, an island dedicated to the concert sounds like a bit of a musical oasis. That's not what concertgoers got when they arrived, though.
In fact, they didn't even get a live show at all. Rather, they were faced with no music but tents and meager portions of food. It definitely wasn't worth the ticket price, which started at $1,500 — although some attendees paid up to $12,000.
Woodstock '94
Woodstock has always been memorable. The 1969 story is the stuff of legends and the '99 rendition turned outright dangerous. As far as bad live shows go, though, you'd have to be okay with a lot of mud in order to attend Woodstock '94.
Nicknamed Mudstock, the event experienced a downpour on day two, leading fans to sling mud at one another. By the time Nine Inch Nails took to the stage, they were covered in mud before they played a note.
Robin Thicke, Paula Tour
Robin Thicke's "Blurred Lines" quickly got him in trouble and, as we just saw, it wasn't really a hit at the VMAs as a live performance either.
The tour that followed and his subsequent album Paula, dedicated to his ex-wife, helped seal Thicke's fate. During shows for the album, the star became known for pausing to ask his ex-wife to take him back. All in all, it helped bring his time in the spotlight to a close.
The Vines, David Letterman
Late shows often host a variety of bands. It's a great way to invite a revolving door of talent and give bands a bit of exposure. When The Vines played on The Late Show with David Letterman, the song was supposed to be "Get Free."
As the song goes on, lead singer Craig Nicholls began to fade in and out of the song, altering between screaming and dropping lyrics from the song. In the end, he turned to smash the drum kit to pieces, much to Hamish Rosser's discontent.
Meat Loaf, SNL
After the release of the album Bat Out of Hell, Meat Loaf was a rising star in rock history. So much so that he was asked to perform on SNL.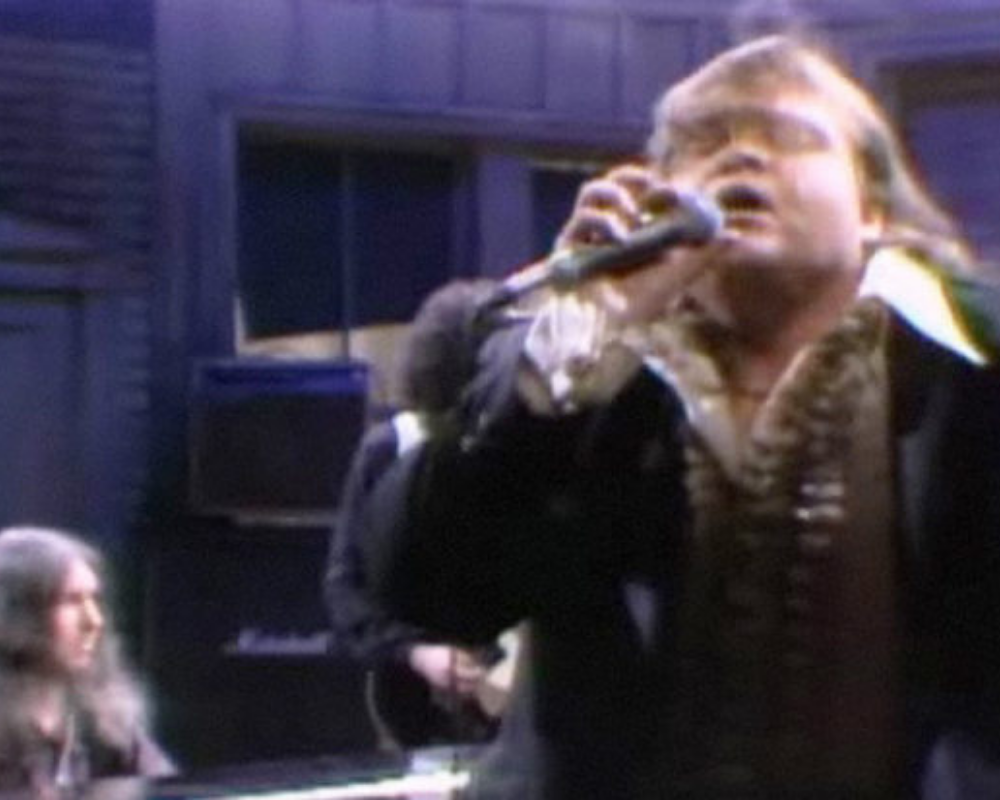 All in all, it could have been a lot worse — Meat Loaf was never banned from the show and the performance wasn't quite disastrous. Yet, it was spotted with missed notes and a wavering vocal performance that didn't measure up to what the audience expected from the rising star.
Fear, SNL
John Belushi was an established name on SNL and was interested in working with Fear on an upcoming film. When it didn't work out, he got them a slot as a musical guest on the show he'd previously been on.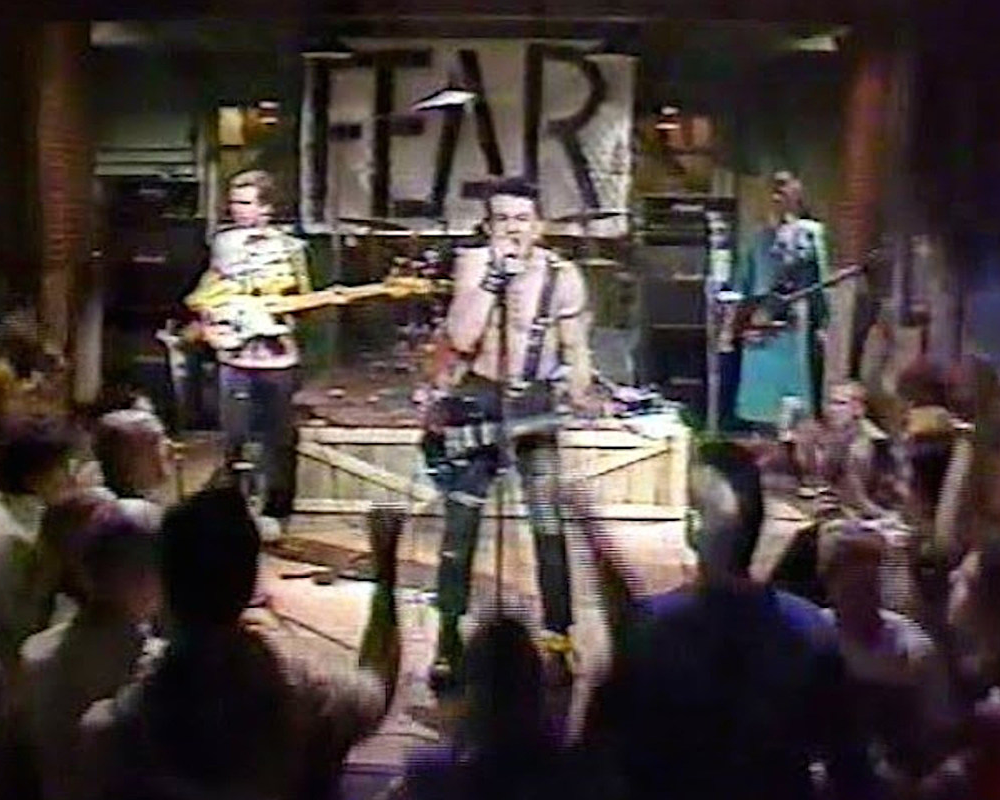 When they took to the stage, it all turned to chaos. True to their punk roots, the band didn't hold back at 30 Rock. From chaotic dancers to messy props, the band managed to cause $20,000 worth of damages. We wonder what Belushi thought of the performance.
Supertramp, Reading Festival
In 1974, Supertramp was set to play at the Reading Festival. To their credit, they continued on and played a show against the odds.
The weather took a turn and the band ended up more than soaked — without a sizable amp, they got shocks every time they touched their wet, electrified instruments. We're glad to see the band made it through the gig with all of that working against them!
Milli Vanilli, MTV
A lot of artists rely on lip-syncing at some point. Still, botching the technique comes with a lot of criticism. One of the most unfortunate incidents happened to Milli Vanilli.
During MTV Live in 1989, Milli Vanilli experienced a skipping track. This would have been embarrassing but the fallout really ended the duo's success. It was discovered soon after that the duo never actually sang — live or on track. The two even ended up returning their Grammy.