Checkmate
We understand that the coronation had to remain posh and professional. That being said, it'd have been really cool if the King and the bishops would've played along with their chessboard roles, at least for a little bit.
Actually, it could've been a wonderful marketing strategy for the royal family. The moment would certainly go viral, people would absolutely love it, and it'd make the royals seem more relatable and fun. Perhaps this idea can be revisited at the next coronation.
Practice Makes Perfect
In the King's defense, he probably never bothered to learn the lines because he thought he'd never have the opportunity to use them. For a while there, it seemed like Queen Elizabeth was immortal and would continue her reign forever.
Add to that our current cancel culture being on overdrive, Harry's tell-all book Spare, and people trying to get the monarchy abolished — and we don't really blame Charles for not wanting to get himself hyped up over something that might not happen.
King Grandpa
Poor Louis must've been so confused about what he should now call the man we know as King Charles. At the coronation, all the five-year-old heard was how his grandfather had gone from Prince to King and that everyone must now call him that latter.
We can see how that'd be confusing for a kid. So, does he now call his grandfather King? Does he stick with Grandpa? Or perhaps he opts for King Grandpa?
The Show Must Go On
The royal family was truly prepared for anything, as they made sure to have some spare Camillas on hand because the show must go on. Spare One and Spare Two are actually the Queen's Coronation Companions — Annabel Elliot and Fiona Mary Petty-Fitzmaurice.
It makes sense that Annabel would look like Camilla because she's actually the Queen's sister. As for Fiona, she's the Marchioness of Lansdowne. Or, you know, they're Spare One and Spare Two, whichever you prefer.
The Real Star
Any time there's some sort of event, there's always something that unintentionally ends up being the center of attention. When Katy Perry performed at the Super Bowl, it was Left Shark that made headlines. At Kate and William's wedding, Pippa's backside was all anyone could talk about.
And at King Charles' coronation, Leader of the House of Commons Penny Mordaunt and her sword completely stole the show. Truthfully, our money was on professional upstager Prince Louis, but we stand corrected.
They Were on a Break
We love this one because it throws shade at both Ross and Charles. What is it with those two and marrying women to who they're not emotionally available? Just like in Friends, Charles ended up happy with the woman he wanted.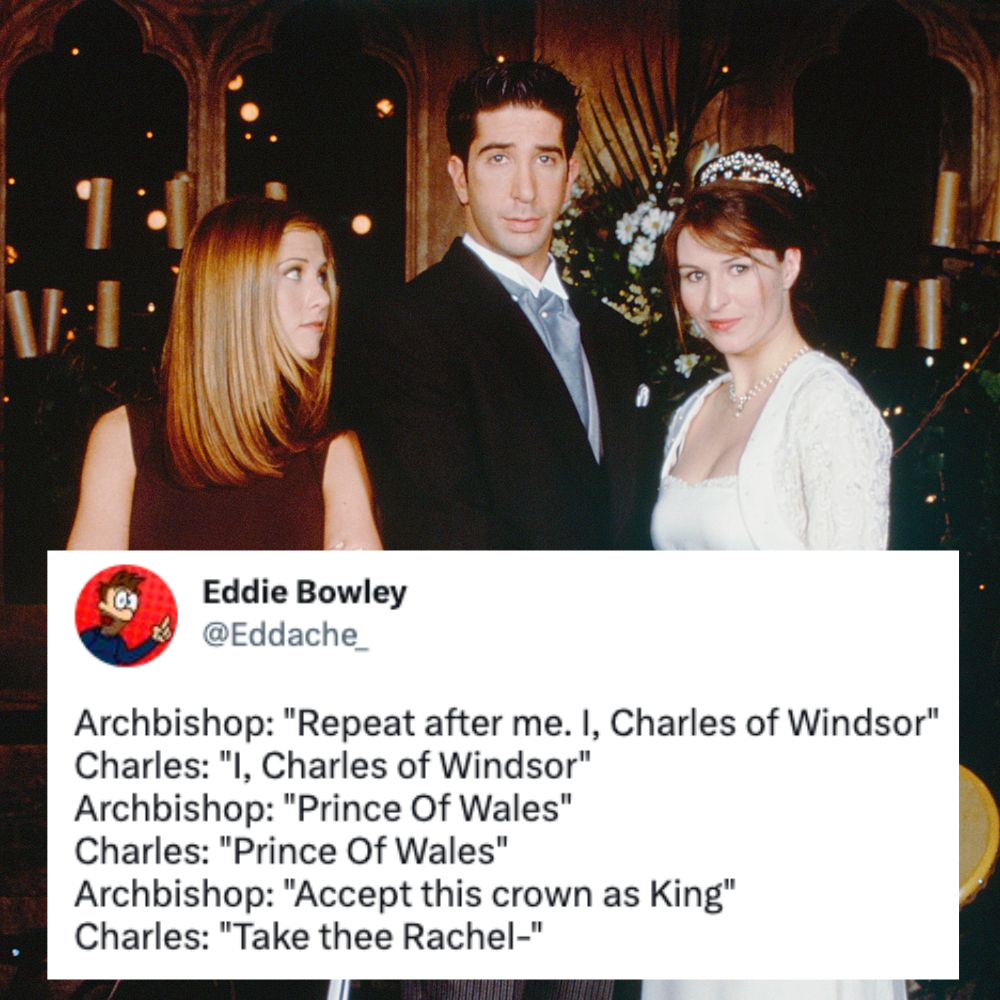 Unlike Ross and Rachel, though, the public thinks the King made the wrong choice. While Emily didn't do anything wrong in the sitcom (besides being annoying), Camila isn't exactly beloved.
The Resemblance Is Uncanny
If we're being honest, either one of these photos could very well be a version of the other but from a parallel universe. The clothing, the facial expressions, the *spoiler alert* sibling connection — it's all there.
Even the way Charlotte and Louis are posed in this photo makes it look like they're the stars of a movie and this is the poster. Perhaps The British Empire Strikes Back's plot would be the royal family battling Harry and Meghan.
False Advertising
Our first thought was that this is false advertising at its finest, but then we did some mental gymnastics for the sake of giving this company the benefit of the doubt. You see, if you were to win the lottery, you'd be rich like a king. Get it?
Of course, you'd have none of the social status, no power, still have to pay taxes on your winnings, and probably go broke shortly anyway — as many lottery winners do. So, yeah, we tried, but this is just false advertising.
He's Not Fooling Anyone
We've seen enough heist movies to know a plan in action when we see one. Truthfully, it's not that great of a disguise, but we imagine that people aren't saying anything because they want the drama.
If the royal family is going to ignore Spare, Meghan Markle's gonna skip the coronation, and Princess Diana's ghost isn't going to show up to give King Charles a stern talking to, then the least we can do is get a decent robbery going.
She Had One Job
It's safe to say that Princess Anne understood the assignment. In fact, she was so dedicated to making her hat look natural, and not at all designed to cover Harry's face, that she based her entire outfit around it!
It was an important task, and someone had to do it. We don't know if Princess Anne volunteered for the job or if she was nominated but, either way, she and her hat certainly accomplished their mission.
Obviously
To quote Twitter user @teresaeliz, "You either date Pete Davidson or have a baby with Nick Cannon. Those are the only two life paths for women." Davidson has a strange ability to get women way out of his league, so of course he'd somehow score Princess Diana as his date.
Meanwhile, Cannon has a knack for convincing women to mother his children, knowing full well that he's gotten several other ladies pregnant at the same time. At this point, we're just waiting for someone to date Pete while carrying Nick's child.
Priorities
Look, the coronation of the King may be important and all, but is it really more crucial than re-watching Johnny English Strikes Again? At best, we'd say it's a toss-up. This was actually a brilliantly strategic move on Channel 4's part.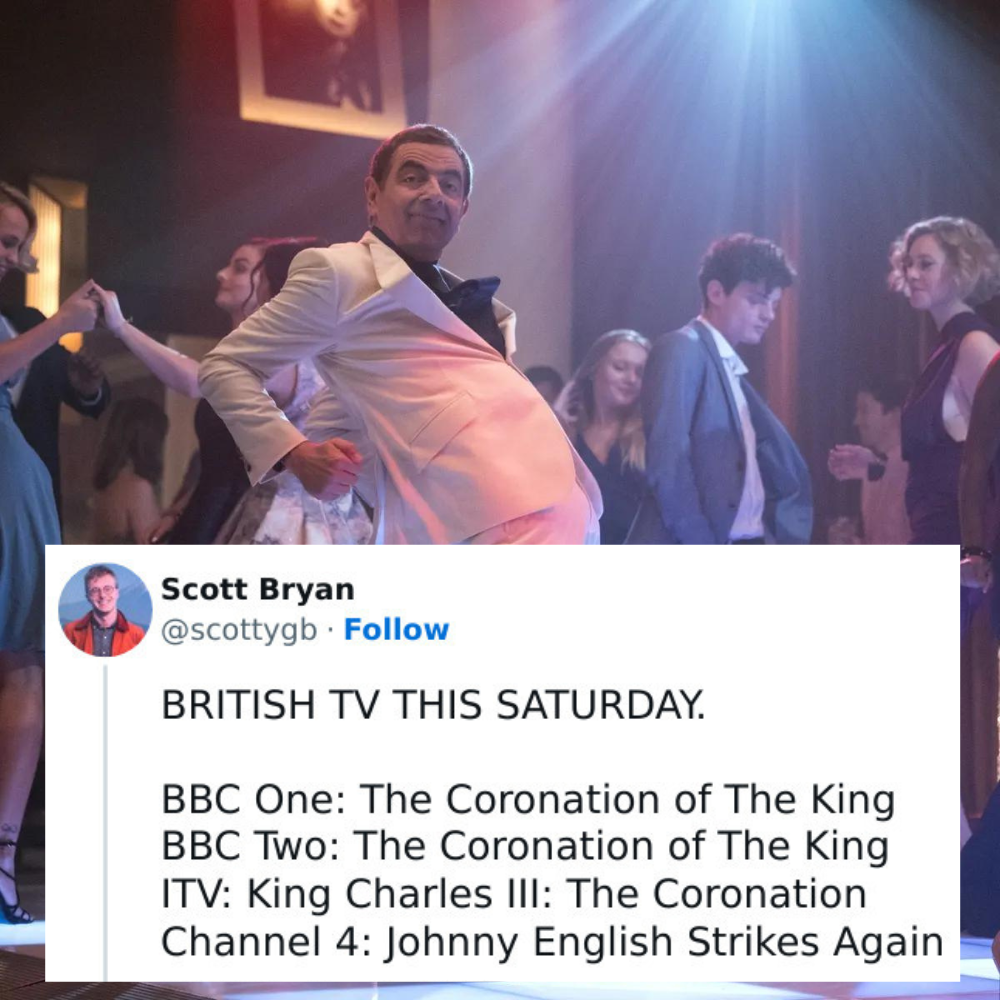 While all the other channels compete for viewers of the coronation, Channel 4 has a total monopoly on all the people who aren't interested in seeing Charles crowned King. Something tells us that their ratings went through the roof that day!
An End to the Rivalry
It's not uncommon for celebrity rivalries to affect their respective fanbases as well. Think about Taylor Swift versus Katy Perry, over a tour dispute. Or Taylor Swift's argument with Kanye West, about song lyrics that either were or weren't approved.
There's also Taylor Swift and Scooter Braun's feud regarding Swift's music catalog. Hmmm, there seems to be a common denominator here… Either way, we're glad to see that the Libertine and My Chemical Romance fans were able to put their differences aside for this particular event.
She Just Wants Privacy
Upon seeing this seemingly disguised individual online, many people took to social media to speculate that this was Meghan Markle, who had declined to attend the coronation. As it turns out, this is actually a photo of 79-year-old composer Karl Jenkins. When asked if he was secretly Markle, Jenkins gave the very matter-of-fact answer, ​​"No, I'm certainly not."
We're inclined to believe him, seeing as if it really were Meghan, she'd make sure to find a camera to sit in front of — because she just wants privacy!
Confused Katy
For those who haven't seen the meme, Katy Perry had some trouble finding her seat at the coronation and wandered around, looking pretty lost, for a bit.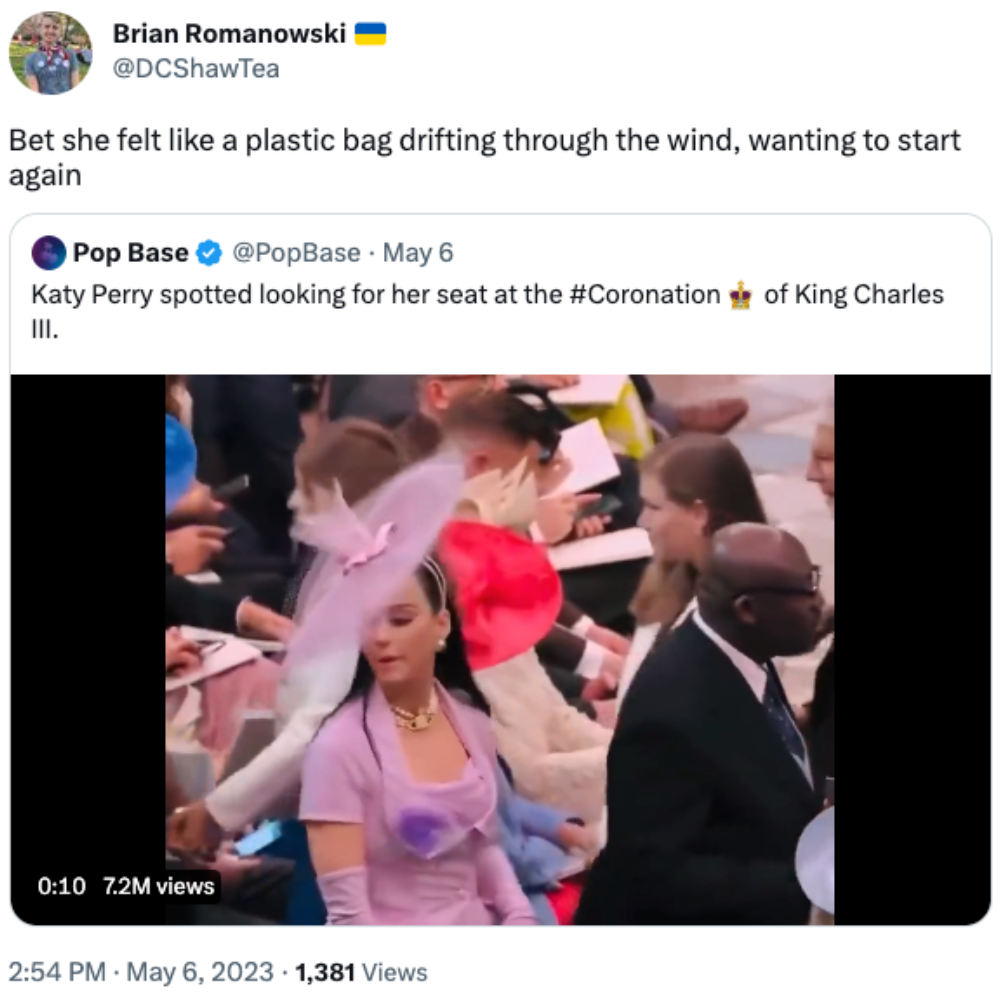 While it's hardly unusual to have a bit of an uncomfortable moment getting oneself arranged at an event — especially when you're a tourist in a foreign country — we don't usually see A-listers struggle socially the way we normal folks do. It was a bit refreshing to have this relatable reminder that even pop stars can be awkward sometimes.
It's Louis, Prince Louis
We all know the formula of Hollywood action/drama movies by now. The hero is brooding, wearing dark colors, it's raining outside, and he puts one hand up to the window, setting the tone of a serious and gloomy man who's just as troubled as the weather.
As it turns out, Prince Louis is aware of this cliché too, because he perfectly encapsulated it when attending the coronation! He's also giving off some scary villain-in-waiting vibes, making him the perfect anti-hero.
A True Princess
Kate Middleton has a lot of fans around the world, and Prince Louis has perfectly demonstrated how those who admire the Princess of Wales look at her. Apparently, the feeling is mutual. Upon meeting a young fan, once, the child asked Middleton what being a princess is like.
Kate responded that the best part was "meeting special kiddies like you. I meet lots of different people, it's really… it's really great […] Everyone's so brave and strong in some of the places we go meet. It's very nice to meet you."
"Let it Gooooooo"
We have to admit that the coronation would've been a whole lot more interesting if it were directed by Disney. Really, all the elements of a classic movie are already there. We have a familial conflict, thanks to Harry and William's issues.
There's an unintentionally hilarious sidekick, aka Prince Louis. With Katy Perry at the coronation, we won't be lacking in dramatic musical numbers. Now, all we need is a talking animal… oh, there's Prince Andrew!
Phew!
Anyone who watched the coronation had a moment of concern for Katy Perry. The pop star struggled to find her seat, and the clip of her wandering around in a confused state quickly went viral.
Luckily, the singer has a healthy sense of humor and doesn't mind being the butt of a joke every now and then. Perry tweeted this shortly after she became a meme, assuring fans that all was well and she found her place.
Flying Under the Radar
It appears that the public has dramatically underestimated Princess Anne, but that's quickly being rectified. We've all been focused on Kate Middleton's enviable style and class. We all notice Meghan Markle's ability to look beautiful in absolutely anything and her perfect fashion sense.
But, what about Princess Anne's level of epicness that allows her to pull off such a challenging ensemble? People of the internet, we need to start paying better attention. Is warrior-chic going to be a thing now?!
Pomp and Circumstance
We totally get what the OP is saying, that this whole thing could've been a shorter meeting — or even just an email — but so can many things in life. By this logic, why bother having any ceremonies for anything?
Graduated college? Get your degree in the mail! Getting married? Go to a courthouse and sign the marriage contract! It's your birthday? Acknowledge it with a modest nod, and continue on as normal. Is that better, OP?
'90s Kids Will Know
No disrespect to King Charles, but his coronation wasn't exactly the most important one of our time. It seems that every generation has a royal who means more to them than the current ruler. For those who were around for Queen Elizabeth's rise to the throne, she's their true leader.
Those of us who grew up watching The Princess Diaries know that Mia is our queen. And the younger generations are loyal servants of Elsa from Frozen. Sorry, Charles, you just don't make the cut.
Better Safe Than Sorry
We can see this situation so clearly. King Charles must have requested his royal scepter. Whoever was assigned the task of going to fetch it probably didn't know which one His Highness was talking about and didn't want to disturb the ceremony by asking.
So, like any unsure person who's just trying to keep their job, they brought both. At that point, we can imagine the King couldn't decide which scepter looked better with his royal robes. So, he too opted to just utilize both of them.
Technically Not Wrong
This is malicious compliance at its finest. For those who may not know, malicious compliance is when you do what's asked of you but in a way that intentionally misses the point. For example, if a parking sign says "green cars only" and you park your gas-guzzling hummer — that just happens to be painted green — in that spot.
It seems that this journalist was asked to write about the coronation but they aren't exactly a fan of the monarchy. Well, they did comply with the request maliciously.
Never Say Never
74-year-old King Charles isn't the only person to achieve his goals later in life. Colonel Sanders didn't start really making money from KFC until he was 73 years old. J.R.R. Tolkien didn't complete The Lord of the Rings until he was 56 years old.
Then there's Madonna, who's in her 60s and is still working on her lifelong dream of turning her face into a slab of plastic. Meaning there's still hope for the rest of us to pursue our definition of success.
An Excellent Choice
If we didn't have any context for this photo or a hint of awareness of who King Charles is, we'd totally believe that this is a picture of someone's grandpa out to dinner.
Can't you just see Grandpa Charles going to town at the all-you-can-eat buffet, complaining about the service, and revving up to fight to the death over that last piece of shrimp? We can certainly envision it! In fact, we're pretty sure that's exactly what Charles is doing in some parallel universe right now.
McKayla Maroney, Is That You?
For those familiar with the McKayla Is Not Impressed meme, you'll recognize this as the British version of it. Whether you're McKayla and uninterested in your second-place win, or you're Louis and done with spending hours at boring ceremonies, this is the universal face for being totally over it.
Which meme will Prince Louis perfectly imitate next? Probably the Kermit Drinking Tea meme the next time Harry and Meghan go at it with the royal family. Yup, just sip your tea and observe the drama from afar.
The Strongest Force on Earth
Let's just clarify something, here — Penny Mordaunt had to remain completely stoic, while holding a heavy sword, for 51 minutes, while wearing heels. Needless to say, the internet was extremely impressed.
Not only did Mordaunt become a meme, but she became an online challenge as well. People took to social media and tried to hold makeshift swords up for as long as Penny did. As it turns out, though, that sword is a bit like Thor's hammer — only one can be worthy.
Gotta Pass the Time Somehow
We're not entirely sure what's going on here, but we're fairly certain that Queen Camilla didn't actually start knitting in the middle of King Charles' coronation. Although, if she did, we can't say we'd blame her.
That ceremony was long, and people have got to stay awake somehow. What better way to stop yourself from falling asleep than knitting a royal blanket as a coronation gift? On second thought, those do look suspiciously like knitting needles…
That's Technically True
During Queen Elizabeth's funeral, the seating arrangements were made oh-so-carefully in a way that completely obscured Meghan Markle's face via a massive candle. Some may believe that was just a coincidence, but others would call those people naive.
Well, after that incident, the internet began speculating that Harry would be blocked by a pillar at King Charles' coronation. The public was assured that wouldn't happen. A promise which was technically, but only technically, fulfilled.
A Walking Billboard
Penny Mordaunt's sword-holding skills weren't the only thing that made her a meme during the coronation. The fact that Mordaunt was dressed in a manner similar to Poundland's (the British version of a dollar store) logo also skyrocketed her to internet fame.
Well, that's some free advertising for the shop! People also compared Penny's outfit to that of Princess Leia from Star Wars, to which the Brit responded, "That's not the look I was going for."
First Day of Work
Some people simply take a bit longer than others to get moving. Maybe you're not quite ready to settle down when your friends are. Perhaps you need to try out a few careers before finding the perfect one.
There's no shame in having your own timeline for success. That said, if you don't get your first job — and we're playing really fast and loose with the word 'job' here — until you're in your 70s, you should expect to be the butt of some jokes.
Sorry, Not Sorry
It seems that everyone has an opinion about Meghan Markle. Her supporters say that she was right to skip the coronation, rather than spend time in what she considers to be a toxic environment. Those who dislike Markle believe that she should've given her children the opportunity to celebrate the big day with their family, and been present to support Harry.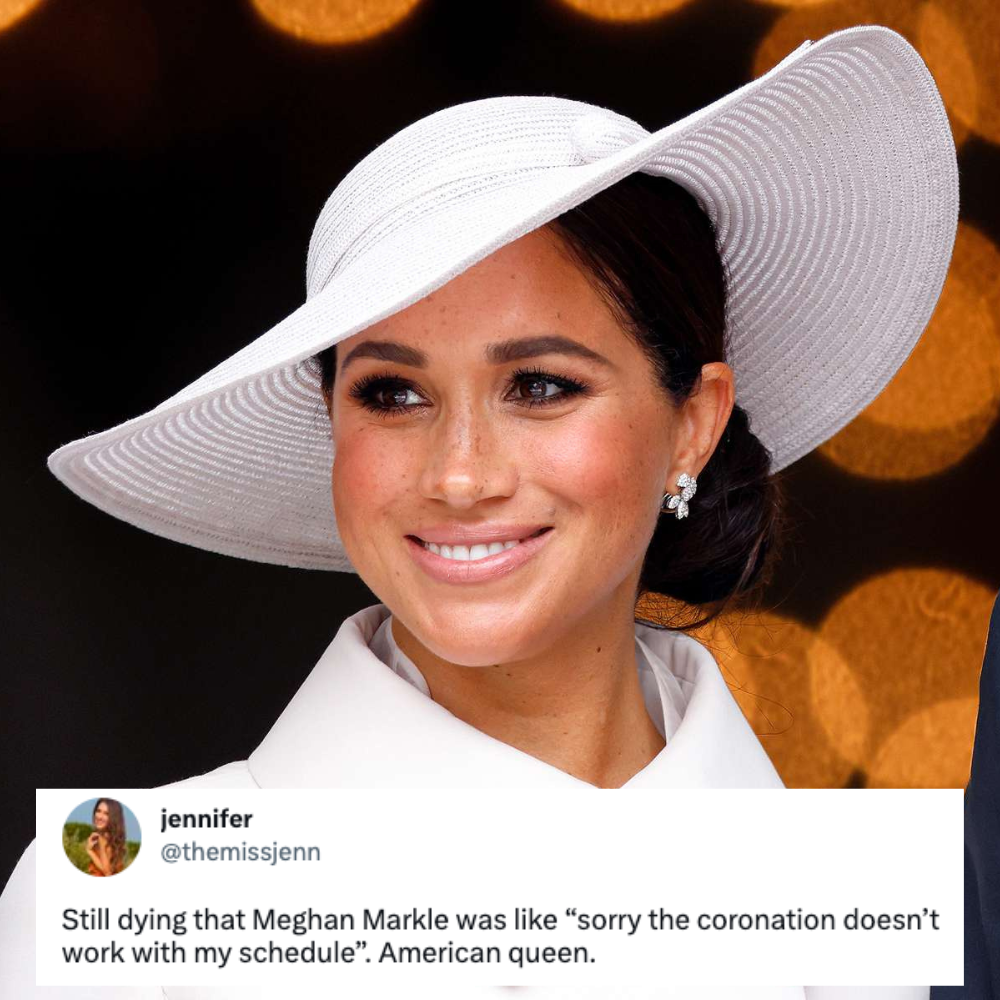 As for Meghan herself, one of her spokespeople said, "We encourage tabloid media and various other royal correspondents to stop exhausting the circus that they alone are creating."
That's Ominous
Apparently, there was a grim reaper-like presence at the coronation. So, naturally, the internet began to throw around theories as to what this entity could be. Some say it was Meghan Markle, set out to cause mayhem. Others believe the spirit was that of Princess Diana, ready to haunt the ceremony.
As it turns out, the "grim reaper" was really just a verger aka someone who essentially works as a caretaker in a place of worship. Well, maybe he was possessed by Princess Diana's ghost?
Patience Is a Virtue
Regardless of what you think about Queen Camilla, no one can deny that woman's got patience! It's tough to know when to give up on something, isn't it? On the one hand, you don't want to keep investing in a cause that isn't going anywhere.
On the other hand, no one wants to be the person who left right before everything came together. Well, Camilla choose to place her bets on sticking it out — no matter how long it'd take!
He Is
Charles may be King of the United Kingdom, but Prince Louis is King of the Internet! From shushing Kate Middleton to pulling faces at the Platinum Jubilee balcony appearance at Buckingham Palace, and covering his ears during the Royal Air Force Flypast, Louis is always a mood.
The coronation was no exception, as the little prince spent much of the time wearing his every thought all over his face. We wouldn't have it any other way!
A Royal Argument
Even the biggest supporters of Prince William and Princess Kate have to admit that there's definitely a lot of negative energy coming from this photo. Of course, that doesn't actually say anything about them or their well-being.
All families have disagreements, and there's no reason to believe the royal family is an exception. Whatever they fought over in the car seems to have been resolved quickly enough, because Kate, William, and their kiddies looked perfectly happy throughout the rest of the day.
Cue Thunder
You'd be hard-pressed to find someone who prefers Queen Camilla over Princess Diana. Perhaps that's why social media users were so intent on finding any sign of Diana's presence at the coronation.
The truth is that the late Princess doesn't need to bother herself with haunting King Charles or pulling shenanigans at the ceremony. She already has the support of the public, on a level that Charles and Camilla could only ever wish for, without even trying. As far as revenge from the grave goes, that's not too bad!
We Can All Relate
As usual, Prince Louis is all of us. Like everything else the young royal does, this perfectly displays a mood and must be made into a meme immediately! In fact, there were a lot of memes represented at the coronation.
Katy Perry was the Confused Travolta meme, looking for her seat. Charles was the Success Baby meme, having finally been crowned King. And Meghan Markle was the Disaster Girl meme, mischievously watching it all go down from afar.
Hide and Seek
At this point, spotting Meghan Markle or Prince Harry at a royal event is like playing a game of Where's Waldo, as they're always placed behind something that obscures their faces. Of course, there's no evidence that these seating arrangements are intentional on the royal family's part, but it doesn't really look like a coincidence.
Once? Sure. Twice? Hmmm. Let's see if there will be a third time, and then we'll know. In fact, let's get ahead of the game and start guessing the next object of concealment!
A Mood Chart
This photo reminds us of those mood charts we all had when we were kids. You know, the ones with various smiley faces, in which you can circle the face that matches how you're feeling.
Given how incredibly expressive each person in this picture is and how none of them seem to be emoting the same thing, this could easily be a mood chart on its own. On a scale from Princess Charlotte to Kate Middleton, how are you feeling today?
There Can Only Be One
As opposed to Snoke from Star Wars, Charles did actually reach his goal of becoming ruler within his lifetime. We must admit that we wouldn't have drawn this comparison between the King and this fictional character.
However, now that we've seen it, we can't unsee it. The gold robes, the facial expression that can be read like a book, and the white eyebrows are just too similar to go unnoticed.
Enter: Salt Bae
For those who don't get the joke, Salt Bae has been guilty of inserting himself into important events in the past. Unfortunately, he seems to be unaware that he's had his 15 minutes of fame and that it's time to move on.
When Argentina won the World Cup in 2022, Salt Bae inexplicably went out onto the field and tried to get photos with Lionel Messi, who clearly wasn't interested. Therefore, it makes perfect sense to prepare for Salt Bae to make another unwanted appearance at the coronation.
Careful, He'll Write Another Book
They say actions speak louder than words, and Prince Harry and Meghan Markle seem to be walking examples of that. Sure, they say they want privacy, but then they go to celebrity events, create Netflix specials, and write memoirs.
Well, the public is finally listening and granting this couple the privacy they keep begging for. Princess Anne's hat is doing all the work of maintaining Harry's low profile. We have no doubt, though, that he's not as appreciative about it as Anne may have hoped.
In and Out
No one can really blame Prince Harry for not wanting to stick around at the coronation too long, seeing as how the other attendees aren't exactly his biggest fans. In fact, the ex-royal was so desperate to be in and out of there as quickly as possible that he even brought his suit hanger along with him!
This guy didn't even want to get a hotel room to change clothes in! As soon as the coronation ended, Harry personified the Road Runner and disappeared, leaving behind a pile of dust.
Meme Heaven
Some events are so culturally significant that even if you're not necessarily a fan, you still want to be in the loop. King Charles' coronation was absolutely one of those moments.
Even non-Brits, who Charles isn't the ruler of, were glued to social media to check out the new memes that'd inevitably pop up. After all, if the royals aren't your thing, you can always see what hilarious shtick Prince Louis is doing.
An R-Rated Coronation
Everything about this image is just unfortunate, including the fact that it was aired on TV. Of course, some people's minds are cleaner than others, so not everyone would get it.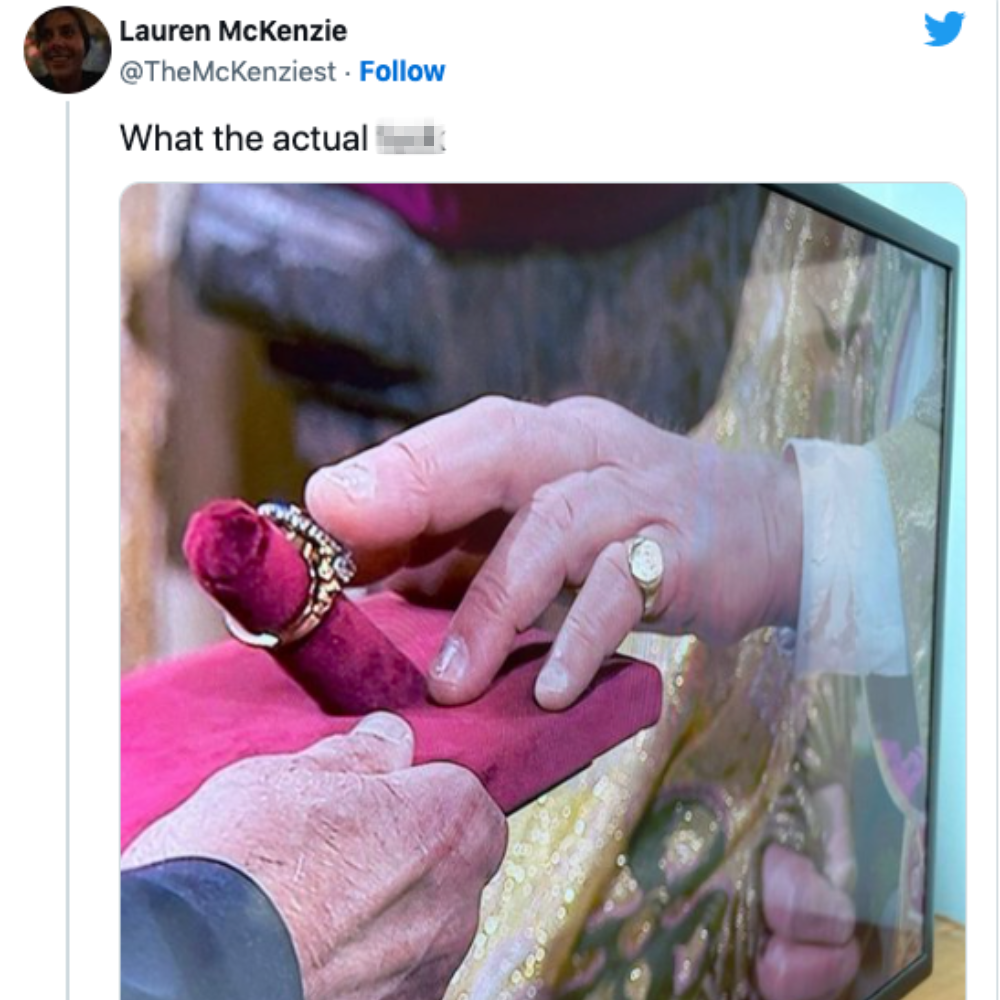 Either everyone involved in this ring's presentation had squeaky-clean brains, or no one wanted to take on the uncomfortable task of stating the obvious. Either way, the public has ended up with this unintentional way of checking how naughty we all are. Sadly, we've failed the test.
Overdoing It
You know how when it's a little kid's birthday, you tell them it's all about them, and they can go all out? So, of course, they throw on every single article of clothing they like. Yeah… That appears to be what happened here with King Charles.
He knew coronation day was all about him, and he was going to wear all his favorite accessories! Is it a bit much? Yes. Did we expect anything else? No.
Now What?
We've all been through that confusing experience of finally getting what you want, only to realize that you miss the chase. That seems to be what King Charles is experiencing here, as his facial expression is eerily similar to Taylor Swift's when she gets a new boyfriend.
Hopefully, Charles can find a new goal to work towards to keep things interesting. Maybe his next mission can be getting the public actually to like him.
Or at Least a Zoom Meeting
On the one hand, the OP is absolutely right that no one needed to get out of bed for this. On the other hand, though, it's kind of nice to see people come together over a common interest.
Sure, the public is extremely divided on their views about the monarchy, but you could even argue that each side came together to promote their viewpoint. All in all, the coronation may have been unnecessary, but so are most things on TV – that won't stop us from watching it!
Run, Your Highness, Run!
For those who haven't read Spare, we'll spare you (Ha! Get it?) the need and sum it up. An alternative title for the book could've easily been Diary of a Wimpy Kid but that was already taken.
Harry could've also named his memoir The Tale of Two Princes and co-written it with William. Perhaps the movie can show Meghan Markle's perspective? That should be called How to Lose a Guy's Family in 10 Days.
Arms of Steel
Penny Mordaunt's expressionless sword-holding skills were undeniable, given how long she had to stay motionless. Of course, it wasn't without preparation. Mordaunt revealed, "I did take a couple of painkillers before just to make sure I was going to be all right."
She also advised anyone trying the Penny Mordaunt internet challenge to "practice," "have a good breakfast," and "wear comfortable shoes" despite the fact that she herself donned heels the whole time.
A Royal Review
The OP has a point, this picture kind of looks like the King is writing a review of someplace he visited. We imagine that Charles' feedback went something like this…
"While the privilege was certainly enjoyable, the wait time for my order of King was simply unbearable. I was very patient and didn't even complain to management, but I only received kingship when everyone was tired of the concept of monarchy anyway and had already left the establishment. I certainly won't be recommending being a British royal to my friends."
Tick, Tock
Considering how long Charles has been waiting to be crowned King, we don't blame the man for getting a little impatient with the length of the ceremony. After all, who knows how long he'll maintain his new status for?!
Many people want to dismantle the monarchy, and the King isn't exactly in his 20s anymore. As much as one might think he'd want to revel in the moment of becoming King, we can understand why Charles may just want to ensure the whole thing gets done before anything can stop it.
Queen Side Chick
While we're not fans of the choice of analogy, they say, "Why buy the cow if you can get the milk for free?" — yet Camilla has proven otherwise. It's pretty rare that a guy will leave his wife for his girlfriend, and it's even rarer that said girlfriend will then become Queen.
So, basically, the universe is breaking its own rules for Camilla's sake. She should just hope that the other known rule of affairs — "Once a cheater always a cheater" — won't apply to her…
20+ Outfits Celebrities Wore to Meet Members of the Royal Family
Marilyn Monroe and Queen Elizabeth II
Two iconic figures met during a The Battle of the River Plate performance at the Empire Theatre in Leicester Square, London. One, a timeless symbol of royalty and tradition, was dressed in a stunning black off-the-shoulder gown with white gloves, a tiara, and dazzling diamond jewelry.
The other, a legendary actress, sparkled in a shimmering dress with delicate straps and a flattering sweetheart neckline paired with gloves that perfectly complemented her attire. This meeting of two style icons remains a memorable moment in fashion history.
Meryl Streep and Queen Elizabeth II
For a showing of Kramer vs Kramer in London, England, Meryl Streep made a stylish appearance in a pristine white long-sleeved outfit, accessorized with matching short gloves and metallic earrings. The actress completed her look with an elegant updo hairstyle.
Meanwhile, the Queen also put her best fashion foot forward, sporting a similar aesthetic in a glittering white long-sleeve dress adorned with sequins. She paired her look with a luxurious fur shawl, stylish short gloves, and eye-catching statement jewelry. This encounter of two fashion heavyweights will be remembered as a pinnacle in style history.
Jennifer Aniston, Geri Halliwell, and Melanie Brown With Prince Charles
A celebration for the 21st anniversary of The Prince's Trust charity, hosted at the Manchester Opera House in England, brought together royalty and celebrities. Prince Charles was met backstage by Jennifer Aniston, Geri Halliwell, and Melanie Brown.
The Spice Girls showcased their signature styles, with Halliwell in a white tank top, a bold neckline trimmed with blue sequins, and Brown in a playful plaid bralette paired with a bold coral blazer. Aniston opted for a more understated look, featuring a sleek navy sleeveless dress, natural makeup, and her trademark haircut.
Queen Elizabeth II With the Spice Girls
At the Spice Girls' 1997 performance at London's Victoria Palace Theatre, Queen Elizabeth II made a fashion statement in a shimmering metallic, short-sleeved dress and mid-length gloves, accessorized with gleaming gold jewels.
The Spice Girls each put their spin on their stage styles, showcasing their unique fashion choices. This historic meeting of celebrities and royalty will forever be remembered as a showcase of fashion, elegance, and style.
Natasha Richardson and Dennis Quaid With the Queen
At the premiere of The Parent Trap in 1998, the Queen of England made a grand entrance accompanied by actors Natasha Richardson and Dennis Quaid. Quaid was sharp in a traditional suit and bow tie, while Richardson captivated in a stunning white dress with delicate sheer sleeves and intricate crystal hair clips.
The Queen was radiant in her sparkling long-sleeved top, sunny skirt, and pristine white gloves, making this a momentous occasion in fashion and film history.
Liz Hurley With Prince Charles
The De Beers/Versace "Diamonds are Forever" celebration in 1998 was graced by the presence of Liz Hurley and Prince Charles. Hurley made a statement in her shimmering sleeveless pink gown encrusted with sparkling details, featuring a daring scoop-style neckline, a high thigh slit, and sheer panels on the skirt.
On the other hand, Prince Charles stayed true to his signature style, opting for a timeless tuxedo that added sophistication to the star-studded event. This encounter between royalty and celebrity was a shining moment in fashion and glamour.
Jennifer Lopez With the Queen
The two women met at the Dominion Theatre in London after the 2001 Royal Variety Performance. Lopez donned a green halter-style gown and a statement necklace, completed with a sleek hairstyle. Meanwhile, the Queen was radiant in a semi-sheer blue dress embellished with sequins and floral designs and finished off with her iconic gloves.
As they spoke, the audience couldn't help but be in awe of the two powerful women from different worlds coming together. The Queen was gracious and regal in her demeanor, while Lopez exuded confidence and glamour.
Lenny Kravitz With the Former Prince of Wales
The former Prince of Wales attended the outdoor concert at Hyde Park in London, England, and met Lenny Kravitz, who was performing. King Charles was dressed in a refined and classic outfit, sporting a gray suit and a red tie.
On the other hand, Kravitz was in his trademark rocker style, donning a mesh shirt, a studded denim jacket, and an oversized knit hat, adding an edge to his look. The two were seen conversing and having a great time as they took in the night's musical performances.
Enrique Iglesias With the Queen
Enrique Iglesias and the Queen met at the Royal Variety Performance at the London Palladium in 2007. Iglesias looked stylish in his black blazer, white button-up shirt, and pants. The Queen, known for her elegant and sophisticated sense of style, looked stunning in a sparkling white dress and gorgeous diamond jewelry.
The event was marked by a special moment between the two as they posed for photographs and shared a warm conversation. It was a unique opportunity for both, as the Queen met with one of the biggest names in the music industry while Iglesias met the royal.
Miley Cyrus and Queen Elizabeth II
For the event, Queen Elizabeth II donned a shimmering black outfit consisting of a dress and shawl, which she paired with classic black gloves. Meanwhile, as the host of the performance, Miley Cyrus made a bold fashion statement in an orange floor-length gown featuring a plunging neckline, criss-cross waist belt, and a tiny cutout.
The young starlet radiated confidence and glamour in her eye-catching attire. At the event, Cyrus and the Queen met and posed for photos, creating an unforgettable moment of a pop star and royalty sharing the same stage.
Lady Gaga and the Queen
Lady Gaga and the Queen made quite the contrast when they were seen together at a public event. Gaga was dressed in an eye-catching red latex dress with an unusually high neck, voluminous puffed sleeves, pointed red boots, and curled blonde hair.
In contrast, the Queen chose a more traditional look, opting for a shimmering black shawl and matching dress. She completed her ensemble with her signature black gloves.
Jennifer Lopez With Prince William and Kate Middleton
Jennifer Lopez glimmered in her emerald green dress as she appeared at the 2011 BAFTA Brits to Watch event. The dress, highlighted with two strategic cutouts, was a showstopper.
Meanwhile, Prince William and Kate Middleton arrived at the event dressed to impress. Kate was stunning in a pastel-colored dress with a flattering ruched bodice, while William looked dapper in a traditional black tuxedo. The couple and Lopez made for a memorable meeting of royalty and celebrity.
Reese Witherspoon and Kate Middleton
Reese Witherspoon and Kate Middleton came together in Santa Barbara, California, during the royal's first joint trip with Prince William. Reese Witherspoon was dressed in an orange sleeveless dress featuring ruffled details on its bodice, paired with brown wedge sandals.
Kate Middleton was dressed in a chic white dress with a blue knit overlay and stylish matching pumps. The two ladies looked stunning as they met for the first time during this special event.
Cara Delevingne With Charles and Camilla
The encounter occurred at a high-end event in London, England, where Delevingne was a guest of honor. The trio posed for photos together, showcasing their diverse fashion styles. Charles and Camilla's classic ensembles contrasted with Delevingne's edgy and bold outfit, making for an interesting visual pairing.
The meeting marked a memorable moment for both the royals and the young model, who was beginning to make a name for herself in the fashion industry.
Taylor Swift and Prince William
The meeting occurred during the Centrepoint charity event held in London. The prince was dressed in a smart black suit and bow tie, while Swift dazzled in a cream-colored dress with intricate embellishments on its semi-sheer top and a voluminous pleated skirt.
The singer completed her look with a curly updo hairstyle and a bold swipe of red lipstick. The gala was held to raise awareness and support for Centrepoint, a UK charity that helps homeless young people. It was a star-studded event, with many famous faces in attendance, but William and Taylor's meeting was a highlight for many attendees.
Angelina Jolie and the Queen
Angelina Jolie and the Queen made headlines in 2014 during a special ceremony in honor of the actress's extensive efforts toward helping in conflict zones through her work with UK foreign policy.
Angelina looked stunning in a sleek gray suit jacket paired with a below-the-knee skirt and open-toe heels. Meanwhile, the Queen looked regal in a light-orange dress and black heels, complete with her signature pearl accessories. The two women created a memorable moment in history.
Harry Styles With Kate Middleton
During the 2014 Royal Variety Performance, Kate Middleton and Harry Styles had a chance to meet and exchange greetings. The Duchess of Cambridge was dressed in a sophisticated black dress with delicate lace sleeves and stunning diamond earrings.
The popular musician sported a bold animal-print jacket over a classic black button-up shirt and pants, showcasing his unique fashion sense. Harry Styles and Kate Middleton shared a smile as they greeted each other, and it was a moment to remember for fans of both of them.
Beyoncé and Jay-Z Meeting Meghan Markle and Prince Harry
The meeting between Beyoncé, Jay-Z, Meghan Markle, and Prince Harry was a shining moment. The Queen of pop wowed in a stunning asymmetrical yellow-gold gown featuring one off-the-shoulder sleeve and another short sleeve. Her dress also had a daring slit on one side and a floor-length skirt.
Meanwhile, Jay-Z looked dapper in a classic black tuxedo and bow tie. Meghan Markle made a stylish statement in a stunning $4,343 Jason Wu dress with semi-sheer details, and Prince Harry complemented her in a sharp suit and bow tie.
Billie Eilish and Kate Middleton
Billie Eilish and Kate Middleton were both present at the same event, making an exciting fashion comparison between the young pop star and the royal style icon. Billie went with an understated black/green button-down dress, with her extra-long nails completing the look.
Kate wore a stunning sequin dress that sparkled as much as her personality. The Duchess of Cambridge accessorized with diamond earrings and a matching bracelet, completing her elegant look for the evening.
Dua Lipa With the New Queen Consort
The singer and the Queen Consort were a vision in black as they met for the first time. Dua Lipa donned a luxurious velvet Burberry gown with stylish mesh sleeves that elegantly draped over her shoulders. Meanwhile, Camilla sparkled in a stunning black dress featuring delicate floral lace sleeves, adding extra sophistication to her look.
It was a meeting between two style icons who captivated the attention of all present. The two women laughed and smiled as they spoke, looking stunning in their respective ensembles. The meeting was a highlight of the evening.
Ava Gardner and the Queen
The Queen was just glamorous in her stunning gown, intricate embroidery, and flattering neckline. The two women were the epitome of sophistication and style as they posed for photos and engaged in conversation. It was an actual meeting of royalty and Hollywood glamor and a moment that will never be forgotten.
The Queen's stunning attire was paired with a simple clutch and a diamond-studded necklace that added a touch of chic to her already-elegant look. Meanwhile, Ava Gardner's sparkling earrings and dramatic updo only added to the glamour of the night, making it a true royal red-carpet affair.
Gina Lollobrigida and the Queen
The gorgeous Italian actress, Gina Lollobrigida, was a vision in a stunning satin dress as she greeted Queen Elizabeth at an event in 1955. The dress featured a flattering sweetheart neckline and a dazzling diamond choker.
Her regal appearance was only elevated by the presence of the majestic Queen Elizabeth, who radiated elegance in her beautiful ensemble, complete with a glittering tiara. It was a moment to remember between two remarkable women dressed to impress.
Brigitte Bardot and the Queen
The French actress looked like the movie star when she greeted the Queen, dressed in a stunning emerald green dress. Brigitte's attire was nothing short of regal, with its luxurious fabric, elegant embroidery, and delicate gloves. She made a lasting impression with her impeccable fashion sense and poise.
The iconic French actress was the epitome of elegance as she greeted the monarch, who was resplendent in a floor-length gown of her own. The two women made a striking picture as they posed together, each in their iconic fashion styles.
Sophia Loren and Queen Elizabeth
Sophia Loren and Queen Elizabeth met at a London premiere in 1957. The Italian actress looked stunning as she graced the red carpet in a strapless gown, topped with a lace jacket that featured white fur-trimmed sleeves. It was a meeting of two powerful women from different worlds, and their fashion choices only added to the glamor of the occasion.
The star looked glamorous, styled in loose waves and accessorized with diamond earrings. The Queen, as always, was regal in her monochromatic attire and jewelry that complemented her sparkling eyes.
Jayne Mansfield and the Queen
The glamorous actress, Jayne Mansfield, made a stylish impression at a Royal Film Performance reception as she greeted Queen Elizabeth. She opted for a stunning gown with a shimmering beaded neckline, adding a touch of Hollywood glitz to the event. Her exquisite jewelry caught everyone's attention, including the Queen, almost outshining the monarch's regal radiance.
Queen Elizabeth was all smiles as she greeted Jayne, her outfit a beautiful example of understated elegance with a touch of regal glamor. It was a meeting of two iconic figures dressed to the nines for this special occasion.
Ursula Andress and the Queen
The Swiss-born actress's stunning outfit and effortless elegance caught the eye of everyone in attendance, including the Queen, dressed in a regal gown. She completed her look with a stunning diamond necklace and matching earrings, which sparkled under the lights.
The two women made a picture-perfect pair as they posed for photos, marking a memorable moment in their careers. The event marked a unique moment in both women's careers as they came together to celebrate the world of cinema and art.
Raquel Welch and the Queen
Raquel Welch made a bold statement when she met Queen Elizabeth at the premiere of Born Free. The actress was draped in an eye-catching ostrich feather shawl, adding a touch of glamour to the already-exciting event.
Her confidence and style were fully displayed as she greeted the monarch, leaving a lasting impression on all present. The Queen was elegant in a pastel ensemble, completing the picture-perfect moment between two of the biggest style icons of the era.
Catherine Deneuve and the Queen
The legendary French performer, Catherine Deneuve, made a grand entrance by paying homage to Queen Elizabeth II with a polite curtsy. However, the main attraction of the event was Deneuve's striking ensemble.
The actress was dressed in a stunning white gown embellished with shimmering red beaded detailing, complemented perfectly by a pair of coordinating earrings. It was a breathtaking sight, and the audience couldn't help but be enthralled by her impeccable sense of style.
Barbra Streisand and the Queen
At the premiere of Funny Lady in 1975, Barbra Streisand made an appearance in a relaxed lavender hooded gown, ready to meet Queen Elizabeth II. As a renowned icon in her own right, Streisand can wear whatever she desires, and in this instance, she chose to keep it comfortable yet chic.
The casual attire was a testament to her confident and fearless style, adding to her overall appeal and allure. Streisand's unconventional approach to fashion was widely discussed, showcasing her individuality and creativity.
Vivienne Westwood and the Queen
Fashion designer Vivienne Westwood is well-known for her distinctive personality and sartorial choices. In 1992, she was honored with an Order of the British Empire (OBE) and made a statement with her bold outfit. Years later, during a luncheon at Buckingham Palace, Westwood showcased her versatility by opting for a more demure ensemble.
The designer's flair for the unconventional and her ability to adjust to different circumstances have made her a legendary figure in the fashion world. Westwood's outfits consistently garner attention and serve as a reminder that true style is all about self-expression and individuality.
Jim Carrey and Renée Zellweger With the Queen
Actor Jim Carrey and actress Renée Zellweger made a grand entrance, dressed to the nines, at the reception for Carrey's film, How the Grinch Stole Christmas. Carrey sported a sleek tuxedo, while Zellweger radiated elegance in a stunning navy gown. The two made their way to the reception line, where they had the privilege of meeting Queen Elizabeth II.
Their sophisticated ensembles reflected their star power and confirmed their place as two of the biggest names in Hollywood. The event was a testament to their impeccable sense of style and ability to make a lasting impression in any setting.
Madonna and the Queen
The legendary Madonna, known as the Queen of Pop, had the honor of meeting Queen Elizabeth II at the premiere of Die Another Day. The two powerful women made a striking appearance, with Madonna flaunting her toned arms in a stunning ensemble. The event was memorable, bringing together two of the most influential figures in their respective fields.
Madonna's bold and confident presence, combined with her iconic style, made her a force to be reckoned with and further solidified her status as a cultural icon. This meeting was a testament to the power of creativity and its impact on the world.
Halle Berry and the Queen
Actress Halle Berry went all out for her meeting with Queen Elizabeth II, leaving no detail overlooked. She donned a luxurious ensemble with a stunning silk gown, sparkling jewelry, and intricate embroidery. Berry also made a stylish statement with her addition of elegant elbow-length gloves, adding a touch of classic glamour to her already stunning look.
The actress's attention to detail and her unwavering commitment to fashion made her the epitome of grace and sophistication. Berry's regal appearance was a testament to her timeless beauty and the lasting impact she continues to have on the fashion world.
Alexander McQueen and the Queen
British fashion icon Alexander McQueen paid homage to his roots when he was honored with an OBE by Queen Elizabeth II. The designer, known for his boundary-pushing creations, chose to wear a traditional tartan sash and matching hat for the occasion.
The ensemble was a nod to his Scottish heritage and showcased McQueen's commitment to embracing his cultural identity. McQueen's innovative designs and bold personal style have made him a household name in the fashion world and an accurate representation of the UK's thriving creative community.
J.K. Rowling and the Queen
Author J.K. Rowling made a stylish appearance when she met Queen Elizabeth II. Rowling chose a chic light pink monochrome suit and paired it with a pale pink Burberry purse, epitomizing the fashion of 2004. The author's refined style and commitment to creating a polished look made her stand out.
Her meeting with the Queen was a testament to the enduring impact of her writing and the global reach of the Harry Potter series. Rowling's writing has made her one of the most influential figures of our time.
Adele and King Charles
For her visit to receive an MBE from King Charles (still a prince at the time), singer Adele made a stylish statement in an embroidered navy A-line dress and a statement headpiece. The singer's bold fashion choice breathed new life into the classic blue dress and showcased her flair for fashion.
Adele's commitment to creating a polished look and her attention to detail are just two of the many reasons why she is such a beloved figure in the entertainment world. Her visit to receive the MBE was a recognition of her incredible talent and the impact she has had on the music industry.
Helena Bonham Carter and the Queen
For a reception for the Dramatic Arts at Buckingham Palace, actress Helena Bonham Carter made a bold fashion statement with her signature eccentric style. Carter wore a lace-trimmed black dress, showcasing her refusal to conform to traditional royal attire. The actress, known for her unique and individualistic approach to fashion, made a lasting impression with her striking outfit.
Her meeting with Queen Elizabeth was a testament to her talent and status as a leading figure in the acting world. Carter's fearless approach to fashion and her unwavering commitment to self-expression has made her an icon of individuality and creativity. Her visit to Buckingham Palace was a fitting recognition of her achievements.
David Beckham and the Queen
David Beckham and the Queen first met in 2003 when Beckham received an OBE. In 2015, Beckham joined the Queen at Buckingham Palace for a reception of the Queen's Young Leaders program.
The soccer star dressed to impress with a sharp black suit and added a touch of playfulness to his outfit with a black-and-white polka dot tie. With his refined fashion sense and commitment to making a difference, Beckham remains one of the most influential and respected figures in both the sports and the charitable worlds
Sophie Hunter and Benedict Cumberbatch With the Queen
Actor Benedict Cumberbatch and his wife, Sophie Hunter, had a royal meeting in 2015 as Cumberbatch received a Commander of the British Empire award. Cumberbatch donned a classic morning coat for the event, showcasing his timeless style. Meanwhile, Hunter added a touch of elegance with a chic shift dress and delicate netted fascinator.
The couple's sophisticated attire perfectly reflected their status as two of the most well-respected figures in the arts and cultural communities. Together, they made a stunning impression as they greeted the Queen and celebrated Cumberbatch's recognition for his contributions to the performing arts.
Anna Wintour and the Queen
The Queen of fashion and the Queen of England were seated side by side at a London Fashion Week show. Anna Wintour, the editor-in-chief of Vogue, looked effortlessly chic in her signature caramel leather boots and dark sunglasses, solidifying her reign as the monarch of fashion.
Wintour's understated yet bold ensemble demonstrated her unwavering fashion influence, cementing her position as an industry leader. Her attire also highlighted her close relationship with the Queen as they sat together at the prestigious event, showcasing their mutual appreciation for style and elegance.
Emma Thompson and the Queen
The versatile performer added a playful touch with white sneakers and a charming smile, reminding us that you can still look dignified and fashionable in your unique way. Thompson's confident and effortless fashion choice proves that it's okay to break the mold and be yourself when meeting royalty.
With her bright smile and effortless flair, Emma shone as she was honored with damehood by Prince William. Her unique approach to formalwear is a testament to her confidence and individuality. She continues to be a fashion icon, inspiring others to embrace their style, no matter the occasion.
Keira Knightley and Prince Charles
It was no surprise that when she was honored with an OBE from Prince Charles, Knightley was dressed to the nines. The actress's fashion sense was fully displayed during her visit to Buckingham Palace. She blended tradition with modernity in her iconic ensemble that still has us talking years later.
The actress looked effortlessly stylish as she received her OBE from Prince Charles at Buckingham Palace in 2018. Knightley's look was a perfect mix of sophistication and playfulness, and it's no wonder she's considered a fashion icon.
Gillian Anderson and the Queen
Gillian Anderson was a picture of sophistication in a structured navy sheath dress when she arrived at Buckingham Palace for a reception hosted by Queen Elizabeth. Little did she know that in the future, she would be portraying one of England's most iconic figures on the popular Netflix series The Crown.
Her sophisticated look added a touch of elegance to the royal event, highlighting Anderson's timeless fashion sense and solidifying her place as a style icon. With this classy outfit, Gillian Anderson once again proves that simplicity can be truly stunning.
Kanye West and Diddy With Prince Harry and Prince William
The meeting between the royalty and the artists occurred at a celebration hosted by Prince William and Prince Harry following a concert at Wembley Stadium. West donned a gray blazer, a tan shirt, a red tie, and trendy white shutter shades, while Diddy chose a navy jacket and a graphic T-shirt.
On the other hand, the princes opted for a classic look with button-up shirts, jackets in neutral colors, and casual pants. The meeting of these four popular figures made for an interesting combination of styles and personalities, showcasing the diversity and evolving nature of fashion and celebrity culture.
Daniel Craig Greets Kate Middleton.
Kate Middleton greeted the James Bond actor in a stunning blue Alexander McQueen gown with intricate embellishments and a sheer skirt. She completed her look with matching blue high heels and statement earrings.
The two met at the BAFTA awards ceremony, where Craig was honored for his contributions to the film industry. The two greeted each other with warm smiles, showcasing their close bond in the entertainment and royal world.