Drake
Hip-hop star Drake might come across as a tough guy, but the truth is that he's nothing more than a mama's boy at heart. He credits his success in the music industry to his mother and the values she instilled in him as a child.
Despite his tough childhood that saw his mother, Sandi Graham, bedridden for years due to her health struggles, the singer has said that she supported him in everything he did, giving him the courage to pursue his singing career.
Zac Efron
Starla Baskett, the mother of hunky High School Musical actor Zac Efron, lives her life away from the glitz and glamor that having a famous son can bring. Raising Zac and his brother Dylan, Baskett has always shared a close relationship with her boys.
Zac is the oldest of his siblings and believes that a close relationship with his parents is just a part of what makes him successful today. We guess that there's nothing more heartwarming than a boy's love for his mother, and in Zac's case, it's clear to see how he adores his mother.
Jay-Z
Having been abandoned by Jay-Z's father when the now-famous rapper was only 11 years old, his mother, Gloria Carter, was left to raise the singer and his three siblings alone. While life was tough for the family living in Brooklyn, Gloria made sure that Jay-Z and his siblings had everything they could want.
In a typical rags-to-riches story, Jay-Z rose above his rather tumultuous and turbulent childhood thanks to the efforts of his mother.
Bradley Cooper
Hollywood actor Bradley Cooper and his mother, Gloria Compano, share a mother-son relationship like no other. The pair is often photographed on the red carpet together as Cooper takes his mother as his date to most Hollywood events.
The 2023 Superbowl saw Bradley and Gloria star in a hilarious T-Mobile commercial together. While there was little focus on the original script, the commercial only highlighted how sweet this pair really is as they laughed and acted silly together for the camera.
Matt Damon
Matt Damon's mother, Nancy Carlsson-Paige, is a teacher and has firm views on how bad child acting is for children, especially in their later years as they struggle to make it in the real world. Favoring local theater over Hollywood, the ECD educator guided her son as he chose his career early on.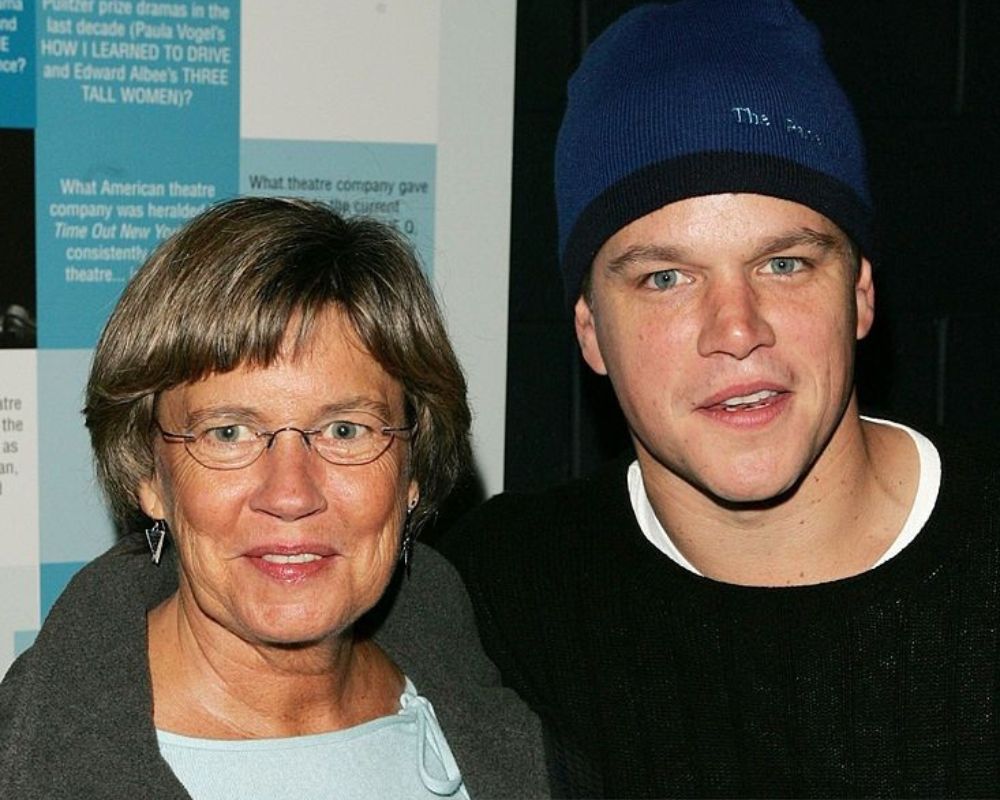 Fast forward 30 years or so, and Nancy couldn't be more proud of her son. She often accompanies him to red-carpet events and was by his side as he unveiled his star on the Hollywood Walk of Fame in late 2007.
Tom Hiddleston
Tom Hiddleston has only the best things to say about his mother and has more than once shared that she's influenced the qualities he looks for in a woman. He's described her as strong, independent, and capable.
It's not often that a man seeks approval from his mother when choosing a lady love, but that's what Tom did when he introduced Taylor Swift to his mom in 2016. Though they're no longer together, it was a moment Ms. Swift will never forget.
Colin Farrell
Colin Farrell might have quite the reputation as being a casanova, but the truth is that he's a mama's boy at heart and often has his mother accompany him to many red-carpet events when awards season arrives.
His mother, Rita Farrell, works in forensic investigation and has visited her son on the sets of many of his hit movies. Colin, however, is nothing like his on-screen persona and is, in reality, a gentleman who loves his mother.
Harry Styles
Harry Styles might be a world-famous singer, but to his family, he's just a regular kid who heads straight to the fridge when he visits his childhood home in Cheshire, England.
His mother, Anne Twist, has shared more than her fair share of funny stories about her famous son, saying that while she always knew he'd be a star, he hasn't let the fame and bright lights change who he is.
Blair Underwood
Losing your mother at any age isn't easy, and even big Hollywood names like hunky Blair Underwood go through the paces as they struggle to come to terms with losing the heart and soul of the family – their mother.
After his mom, Marilyn Ann Scales, passed away in 2020, the actor shared a heartfelt tribute to her on Facebook, paying tribute to the woman who raised him. R.I.P. Mama Underwood.
Chris Evans
Chris Evans and mom Lisa are more than just mother and son – they seem to be best friends, too. Often heard bragging about her son to anyone who will listen, Lisa is a proud mom with a close relationship with her darling boy.
The two are so close that Chris shared how, as a teenager, he ran home to share his first intimate experience with his mother, seeking her advice and motherly love on one of the bigger experiences of his teenage life.
Ashton Kutcher
Ashton Kutcher set the bar pretty high as far as Mother's Day gifts go when he remodeled his mother's home. This was to say 'thank you' for all she's done for him and his siblings, including raising a child with health issues.
Finding out she was about to be a mother only two hours before she gave birth to Ashton and his twin brother Michael, Diane jumped into motherhood with strength and grace as she raised her children to be well-mannered and hard-working.
Rafael Nadal
Rafael Nadal credits most of his success to his parents, especially his mother, Ana Maria Parera. Born in Spain in 1986, Rafael showed talent for tennis at a young age, with his mother in full support of her son making a career of it.
Ana is often seen on her son's arm and attends every tennis match to cheer on Nadal as he plays against other tennis greats. It just goes to show that with the love and support of your mom, your biggest dreams can come true.
Justin Bieber
It's quite common for moms to take the role of manager to young stars who want to make their mark in the world, and that's exactly what Justin Bieber's mom, Pattie Mallette, did when her son was first discovered in 2008.
While the two have often clashed, they've overcome their differences and are now closer than ever. Single mom Pattie raised her children the right way, and Justin is now regarded as one of the best singers in the world.
Ryan Gosling
Donna Gosling took her children's education very seriously and made the brave choice to homeschool Ryan and his sister Mandy. That's not all she taught the pair, she also gave them life lessons that shaped who they are today.
Ryan Gosling is an incredible actor and is said to be extremely respectful. He was taught how men should treat women, showing love and respect for the women in his life, namely Donna, Mandy, and his wife, Eva Mendes.
Ed Sheeran
Ed Sheeran might not have grown up in Hollywood, but he's an international artist that's sold millions of records worldwide. But, despite his fame and fortune, he's a family man at heart and loves his mother fiercely.
One of his best songs, "Supermarket Flowers," had many fans thinking it was about his mother. While he has nothing but love for his mother, the singer revealed that the song is, in fact, about his grandmother.
Channing Tatum
Channing Tatum often has his female fans hot under the collar as he plays the role of the hot guy in many of his movies. But deep down, he's a mama's boy who shares a sweet relationship with his mother, Kay.
Not only is she a fantastic grandmother to his daughter Everly, but she always shows her son that he's loved and important, as she leaves him little gifts after every visit. Channing has more than once shared her gifts with his Instagram followers, gushing about the love he has for his mother. So sweet!
Jared Leto
Actor and Thirty Seconds to Mars singer Jared Leto has his mother to thank for his career. His then-teen mom encouraged Jared and his siblings to work hard for what they wanted and have good morals and ethics in life and love.
Often snapped accompanying her son to many red carpet events, Constance Leto is ever-present in her famous son's life and is still said to influence many of the decisions the actor makes in his personal and work life. Ah, a mother's love and influence truly know no bounds!
Russell Brand
Comedian and actor Russell Brand got quite the wake-up call on how quickly things can change when his mother suffered horrendous injuries in a car accident in late 2018. Russell dropped everything to be at his mother's side in the hospital.
Barbara Elizabeth was in the hospital for just over a month, and Russell, ever the doting son, canceled his comedy tour to care for his mother as she recovered from her injuries. Russell doesn't have the best reputation but he's shown his true colors. He loves his mama fiercely and will do what it takes to make sure she's okay.
Tom Cruise
It's clear to see that Tom Cruise has inherited his mother's genes, as the two share an uncanny resemblance that's evident in their smiles. Mary Lee Pfeiffer was a teacher who sadly passed away in 2017.
Losing his mother was a massive loss for the Mission Impossible star, who credits his late mother as the inspiration behind his acting career and the incredible success and impressive fortune he's achieved as one of Hollywood's best-known actors.
Shia LaBeouf
Transformers actor Shia LaBeouf credits his artist mother, Shayna Saide, for always teaching him to see the beauty in life. He's spoken about how her passing in 2022 truly cemented his new-found perspective on life.
Although things were tough for the actor while growing up, his mother gave her children her all. She raised her children alone in Echo Park following her divorce from Shia's dad. The family might not have had much money, but there was more than enough love going around to make them a pretty happy family who are still close.
P. Diddy
Sean Combs, better known to the world as rapper P. Diddy, is truly a mama's boy. He was raised by single mom Janice and never knew his father. This didn't stop the young boy from Harlem from achieving record-breaking success in the music industry and only strengthened the relationship he shares with his mother and siblings.
When it comes to giving gifts, Diddy is known to splurge. He made headlines when he gifted his mother with a $1 million check on her 80th birthday to say 'thank you' to her for the sacrifices she made while she single-handedly raised her children. Well done, Diddy! A lot more men should take a page out of your book!
Simon Cowell
Simon Cowell might have a reputation for being a bit of a meanie as he judges singers on shows like Britain's Got Talent, American Idol, and more. But at the heart of it all, he's a sweet man who loves his mother fiercely.
Having lost his mother in 2014, the celebrity was seen crying while watching a heart-wrenching performance on the reality show Britain's Got Talent. His co-judges had to comfort him as he came to terms with the loss of Julie Powett, who passed away at the age of 89.
Matt James
Starring on season 25 of the reality dating show The Bachelor, viewers of the popular show got a bit of a glimpse into the hunky former athlete's family life, falling in love with more than just his good looks and boyish charm.
While the relationship between Matt and Rachel has since come to an end, Matt James is still as close as ever with his mother, Patty, and often looks to her for advice on life, love, and everything in between.
Barry Bonds
Baseball player Barry Bonds may not be a Hollywood celebrity but he has a fan following that makes him a big name in the sporting world. Just like the many other famous men on this list, he credits his success to his mother.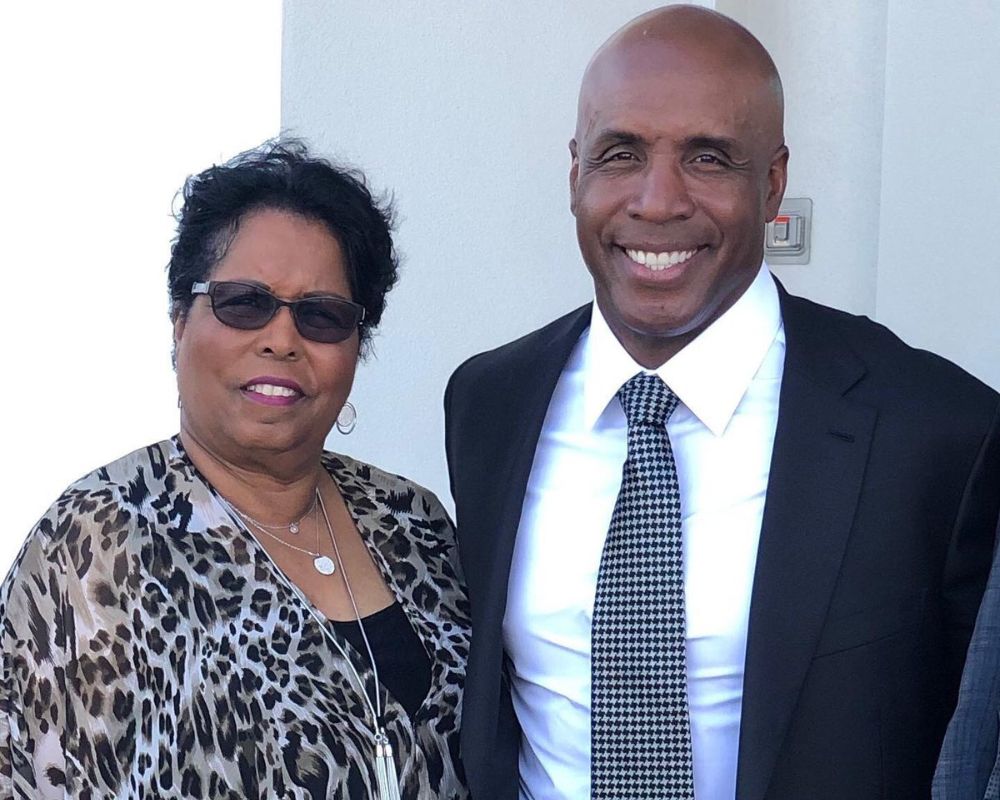 Barry's mother, Patricia Howard, was the center of attention in the sporting great's recent Instagram post as he paid tribute to his mother on Mother's Day, wishing her and the mothers of the world a happy day. "Happy Mother's Day to my Mom, who has always been in my corner," the star wrote, making moms around the world rather emotional.
Ryan Seacrest
Ryan Seacrest is a pretty big name on the Hollywood talk-show scene, but to his mom, Connie, he's just Ryan – the son she loves and is super proud of. From attending his live shows with co-host Kelly Rippa to walking the red carpet at some of Tinseltown's biggest events, Ryan and Connie are as close as can be.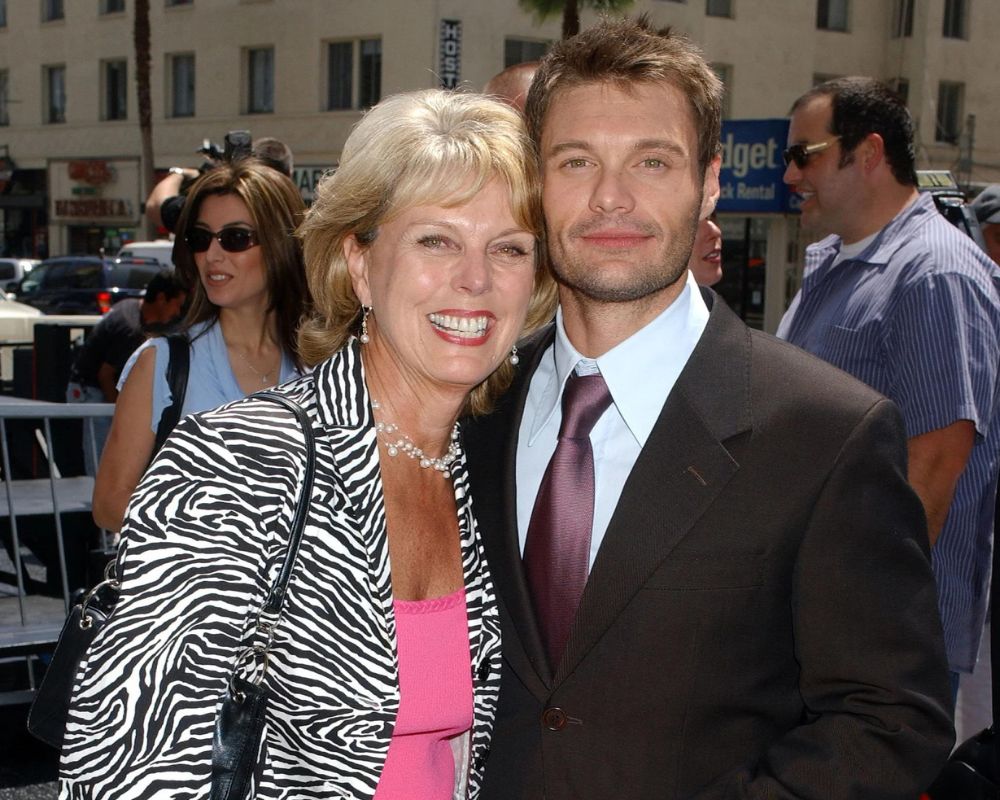 Ryan, in fact, is so close with his parents that they're often seen out and about together and are always happy and smiling for the cameras. It's clear to see that this is one family that puts family values ahead of fame and fortune, as these parents support their son in all he does.
Usher
Usher's mother, Jonetta Patton, is more than just a loving mother. At one time, she was also his manager as he built his music and acting career, becoming one of Hollywood's top talents with hits like "Burn," "Yeah!" and "My Boo" as some of his best hits to date.
While she helped her son achieve success, Jonetta's relationship with Usher became strained over the years, with the two only recently coming closer together as the singer celebrated his mother's new-found success in the culinary world.
Jake Gyllenhaal
Before she became known for being actor Jake Gyllenhaal's mother, Naomi Foner enjoyed a rather successful career in the acting industry, too, making her only too aware of the struggles it takes to make it in Hollywood.
This, however, helped her guide her son Jake and his sister Maggie as they, too, tried to make it in the acting world. Naomi supported them and gave them the best advice to build their careers. Only a mother, and a fellow actress, knows how hard it really is to make it in the industry, and she guided them as best she could.
Timothée Chalamet
Nicole Flender, mother of talented young actor Timothée Chalamet, had no idea that her son would become as successful as he has, but she always knew her son was special. While raising a son isn't easy, Nicole and husband Marc did all they could to ensure that their son had the best in life.
Timothée has a lot to be thankful for and is especially close with his mother. He recently shared some of his favorite memories of his childhood, including one of him accidentally locking his unclothed mother on their balcony. Boys will be boys!
Ludacris
It's pretty hard to find the perfect gift for your mother to say 'thank you' for raising you, right? Ludacris found the ultimate gift as he had his mother's home renovated in 2017 as a surprise and a way to pay tribute to her.
Roberta Shields couldn't believe her son would go to such lengths to show how much he loved her. While many consider this an over-the-top gift, it was well received by Shields.
Adrien Brody
Long before Adrien Brody made his first appearance on the Hollywood scene, it was his mom, Sylvia Plachy, who was making a name for herself as a world-acclaimed photographer. Call it nepotism, or put it down to having connections, it's clear that Sylvia has had a hand in boosting her son's career.
Adrien, known for movies like The Pianist and The Village, is ever grateful to his mother for her love and support. He often has his mother accompany him to red-carpet events and movie premieres.
Brooklyn Beckham
The Beckham family is considered to be Hollywood royalty, partly thanks to mother Victoria's prowess as a designer. But it's her work ethic that her son Brooklyn admires, as he too tries to make a name for himself and draws on the values she instilled in him to become a success.
The oldest of four children, Brooklyn has always been the apple of his mama's eye, as he was the one that made her a mother. While he's married and living on his own, he often shares selfies with his mother on social media, specifically Instagram.
Justin Timberlake
While most kids would try to move as far away from their parents as possible in a bid to gain some independence and live their lives, Justin Timberlake is the complete opposite! Justin loves and depends on his mother so much that he bought a house close to his mama.
Lynn Harless, an actress herself, is regularly photographed on the arm of her son as they do lunch, spend time with Justin's kids, and go to many red-carpet events together. This is one relationship that we're here for!
Adrian Grenier
Adrian Grenier is another celebrity who shows his love for his mother by showering her with gifts and even buying her a beautiful brownstone back in 2021.
Bought with the intention of having her closer to him, Grenier gave fans a video tour of the home, all the while gushing about his pride in being able to give his mother an elaborate gift. It's clear that nothing will come between Adrian and his mama, making us love him even more than we already do!
Jaden Smith
The Smith family is certainly a talented one, with each of them famous for their singing, acting, or talk-show hosting fame. The Smith children have their mother, Jada, to thank for this.
Starting his career in film alongside his father, Will, Jaden soon moved on to singing and had the full support of his loving mother to encourage him to pursue his talents as a rapper. Oh, to be a child in the Smith household!
Leonardo DiCaprio
We have Irmelin Indenbirken to thank for both the name and the face that many women around the world gush over every time the name Leonardo DiCaprio is mentioned. Named after painter Leonardo da Vinci, the Titanic actor was raised by his mother after his parents divorced.
While we all know the story behind his name, not many know that Leo is still fiercely close with, and protective over, his mother. He regularly has her on his arm as his date to many red-carpet events when awards season arrives in Hollywood.
Pete Davidson
While many moms are proud of their sons, there aren't many that are as proud as Amy Davidson, mother of Saturday Night Live alum Pete Davidson. Often pictured together at various events, Amy has publicly thanked Pete for making her a mother.
Pete loves being around his mom and spends time with her whenever his schedule allows. Recently, he starred alongside his mother in a hilarious skit on the popular comedy show that made him famous.
Will Smith
Will Smith faced a lot of controversy and backlash for how he handled the situation with Chris Rock at the Oscars in March 2022. It was the anger that his mother showed toward him as she shared her feelings about the incident with the press.
Caroline Bright spared no kindness as she reacted to the incident, giving her son a stern talking to. We hope Will learned his lesson, as his mother taught him right from wrong at a young age. It just goes to show that no matter your age or celebrity status, your mother still has a big influence on what you do.
Nick Cannon
Nick Cannon has 12 children with six women, making us wonder what sort of relationship he had with his mom. But, surprisingly, the actor is close with his mother and was raised with a normal childhood.
We'd hate to be Nick's mother, Beth Gardner, when Christmas rolls around. However, we love that she's endeavored to form a relationship with each of her grandchildren, showing them the same love she showed Nick.
Dev Patel
We all know that Indian mothers are fiercely protective of their sons, and in the case of Anita Patel, her love for her son Dev is unwavering as she helped the actor kickstart his acting career and make a name for himself in Hollywood.
Dev couldn't be more grateful and thanked his mother for her support by bringing her as his date to the 2017 Academy Awards. Dev has stayed true to his Indian roots and made his mother proud as she gushed over his success.
Dwayne "The Rock" Johnson
Dwayne "The Rock" Johnson might have a larger-than-life persona on-screen, but to his mother, Ata Johnson, he's just her loving son. Owing his success to her, Dwayne surprised her with her dream home to say 'thank you.'
While many moms wish for a phone call or flowers and a card, Dwayne went the extra mile in showing his mother just how special she is and how much he loves her when he handed her the keys to the house of her dreams.
George Clooney
Growing up in a small town in Kentucky might not have been easy for hunky E.R. actor George Clooney, but his childhood was a happy one thanks to his mom, Nina Warren. When asked if they were wealthy growing up, George shared that while his family might not have had an endless supply of money, love was in no short supply.
George has been photographed with his mother as his date to various red-carpet events and still spends as much time with her as possible. He spends holidays together with Nina, his wife, Amal, and their twins, whenever possible.
Shemar Moore
Actor Shemar Moore might have made it big in Hollywood, but no role has made him prouder than that of a son to his beloved mom Marilyn Wilson-Moore. The star sadly lost Marilyn in 2020 and is still grieving this massive loss.
Shemar was quick to show his mom some love on an appearance on C.B.S.'s The Talk, where he jumped off the stage to give his mother a kiss and wish her a happy birthday.
Kanye West
Kanye West might not have the best reputation when it comes to his relationships, but there's one relationship that he'll always treasure most – the one he has with his mother, Donda West. This boy sure loves his mama!
Despite his failed relationship with Kim Kardashian, the star remains close with his children and is often pictured with them, which is clearly an influence from his late mom, Donda. He even wrote a song about her, titled "Donda."
Matthew McConaughey
Bearing a striking resemblance to his beautiful mom, it's clear to see where the actor got his good looks. We say a very big 'thank you!' to Mary for passing down her obviously good genes to her son.
Matthew and Mary are as close as a mother and son can be and are regularly photographed together at the many Hollywood events that her son is invited to. They make a very handsome pair, if we do say so ourselves!
Noah Centineo
A newcomer on the Hollywood circuit, Noah is the star of To All the Boys I Loved Before.  However, it's his relationship with his mother that we're focusing on, because it's truly one of the sweetest we've seen in a long time.
Back in 2019, when Noah first made a name for himself as an actor, his mother shared embarrassing stories about her son. The pair laughed together and posed for a few cute pictures.
30 Female Celebs Over 50 That Are Strikingly Beautiful
Age is just a number — and these gorgeous ladies are proving that sentiment right. With their timeless glamour, graceful visage, and stunning persona, these wonderful women are in an undisputed league of their own. These glam girls are still as popular and as fresh-faced as ever. Keep scrolling to see for yourselves!
Michelle Pfeiffer
Let's start our list with the one diva, who has surfaced over and over again throughout decades. A prolific face of the 1980s and 1990s, Michelle Pfeiffer still surprises her fans with her versatile acting skills.
From Scarface to Maleficent, Batman to Ant-Man, she is literally everywhere! Now 63 years old, the blonde bombshell is still rocking the streets of Hollywood. And with those light golden locks and stunningly blue eyes, there's no doubt the cat-woman still has it going on — with or without a catsuit.
Julianne Moore
This gorgeous diva is another known face from the '90s. Over the decades, Julianne Moore has been dominating both indie and blockbuster productions by delivering power-packed performances. There are very few who can portray emotionally troubled women on screen like Moore.
Whether it be Hannibal, Jurassic Park, or even Crazy, Stupid, Love, there's no denying that Moore has mesmerized audiences all over the globe — and continues to do so 'till this day. Currently in her 60s, the strawberry-blonde beauty shows no signs of slowing down.
Jodie Foster
Speaking of the Hannibal series, how can we not discuss the beloved Jodie Foster? Having earned her first Academy Award nomination at the age of 13, Foster is undeniably one of the best thespians of her generation.
12 years after that memorable performance in Taxi Driver, Foster bagged an Oscar for the first time — thanks to her breakthrough adult role in The Accused. Just three years later, she delivered another Oscar-winning powerful performance in The Silence of Lambs, the prequel to Hannibal. Now in her 50s, the talented diva is still shining on and off-screen.
Brooke Shields
Brooke Shields is another prominent actress, who garnered critical acclaim at a very young age. At just 12 years of age, this 'Pretty Baby' attracted the attention of the industry with her acting and beauty — eventually earning her the reputation of the most prominent and controversial child model of her time.
In 1980, then teenager Shields delivered a memorable performance in Blue Lagoon. Though not very prominent on the big screen now, this 56-year-old pretty lady is still winning hearts with her dazzling smile.
Demi Moore
This actress comes with a powerful package of beauty and boldness. One of the highest-paid actresses throughout the 1980s and 1990s, Demi Moore has earned the credit of being an influential figure in the movement for equal pay among genders in Hollywood.
She emerged as a powerful actress in 1990, with her Golden Globe-nominated performance in Ghost. Despite the years that have passed, the 58-year-old brunette is still making headlines for her timeless beauty.
Monica Bellucci
The list of gorgeous divas over 50 cannot be imagined without this lady. Whirling the world with her hourglass figure and dramatically perfect beauty, this Italian model and prominent icon also showcased her acting skills in Malena, Irreversible, The Passion of the Christ, and The Matrix series.
In the 2015 film, Spectre, the powerhouse appeared as the oldest Bond girl in the history of the film franchise. Now in her 50s, Monica Bellucci is still a sight for sore eyes!
Salma Hayek
This Mexican-American actress is another bold beauty. A prominent Mexican film and telenovela face in the late 1980s, Salma Hayek started her Hollywood career in the late '90s. Breaking the definition of beauty on screen, Hayek gave a powerful performance with her breakthrough titular role in the 2002 biographical film, Frida.
The film made her the first Mexican actress nominated for the Academy Award for Best Actress. With several movies and the much-awaited MCU one under her sleeve, Hayek is still going strong at 55.
Nicole Kidman
This American-Australian actress is truly a stunning beauty! After starting her acting career in Australia in the 1980s, Nicole Kidman rose to prominence in Hollywood in the 1990s with films like Batman Forever and Eyes Wide Shut among many others.
After awing the audience with her Academy Award-nominated performance in Moulin Rouge!, Kidman bagged the Oscar next year with her lead performance in The Hours. A well-renowned actress and prominent humanitarian ambassador, this blue-eyed blonde beauty is still dazzling at 54.
Sandra Bullock
This bold and beautiful actress has landed the list of highest-paid Hollywood actresses not once — but twice! After rising to prominence in 1994 with action-thriller Speed, Sandra Bullock became the rom-com leading lady throughout the '90s.
In the following decades, the versatile actress gave powerful performances in comedies and thriller dramas, starting from Miss Congeniality to Bird Box, with numerous accolades including an Oscar. At the age of 57, the dusky beauty still knows to pull all the 'Gravity' towards her!
Cindy Crawford
One of the most popular supermodels of the 1980s and 1990s, Cindy Crawford expanded her career into acting, business, and charity work. She appeared in a handful of big and small-screen productions, and music videos in the 1990s and 2000s.
She resurfaced in the 2011 Duran Duran music video for "Girl Panic!" and 2015's "Bad Blood" by Taylor Swift. Off-screen, she has been the popular face of magazine covers and fashion campaigns throughout her life. At the age of 55, this brunette beauty is still runway-ready!
Sharon Stone
It's all about the 'Basic Instinct!' Well, Sharon Stone perfectly proved so with the film series! Since she entered the industry in 1980, Stone has been turning heads — not only due to her undeniable talent but also because of her striking looks!
From Total Recall to Casino, Stone has totally dominated the thriller-drama genre with her erotic and voyeuristic screen persona. The actress is active on both big and small screens to date. Aging gracefully, this stunning beauty is still a head-turner even at 63.
Julia Roberts
This 'Pretty Woman' never ceases to amaze us! With tons of movies on her resume, Julia Roberts is considered one of the most bankable Hollywood actresses. After her leading performance in the 1990 film, Roberts hasn't ever had to look back!
From Steel Magnolias to Oscar-nodded Erin Brockovich; from Ocean's Eleven to Eat Pray Love, the actress has dominated the silver screen for over two decades. Being named the most beautiful woman in the world by People for a record five times, the 53-year-old actress is still dazzling people with her million-dollar smile.
Jennifer Lopez
J.Lo can get it all when she wants! After being a popular singer and dancer, Jennifer Lopez decided to pursue acting in 1993, and she did it with a bang! Lopez became the first million-maker Latin actress with her lead performance in the 1997 biopic, Selena. After back-to-back hits, she went on to establish herself as the highest-paid Latin actress in Hollywood.
Simultaneously, this multi-talented diva continued to rock the music world too, leading the Latin Pop Movement in American Music. With blockbuster hit films on one hand and billboard top albums on the other, there's no stopping the jazzy J.Lo — even at 52.
Elizabeth Hurley
Best known as Vanessa Kensington in 1997 hit spy comedy Austin Powers: International Man of Mystery, Elizabeth Hurley has been stunning audiences for decades with her exquisite beauty.
One of the most popular fashion icons of her generation, the gorgeous diva has long been the face of Estee Lauder face throughout the years. She was chosen as a model and spokesperson for the prestigious cosmetic brand in 1995, even without any prior modeling experience. This 56-year-old fashionista is still stunning as ever.
Halle Berry
This celebrated actress rose to fame in 1992 with her breakthrough role in the rom-com Boomerang. Her titular role in the 1999 TV biopic film, Introducing Dorothy Dandridge won her an Emmy and a Golden Globe Award.
The 2001 romantic drama, Monster's Ball made her the first and only African-American woman to win an Academy Award for Best Actress. Berry continued to awe the audiences in the X-Men series, as the Bond girl in Die Another Day, and many others. Now 55 years old, this brown-eyed beauty is absolutely gorgeous inside and out!
Viola Davis
With an Oscar, an Emmy, and two Tony Awards to her name, Davis is the youngest and the first African-American actress to achieve the prestigious 'Triple Crown of Acting.' She may be best-known for her role in How to Get Away With Murder TV but that's not all.
From King Hedley II to Fences on Broadway — and much, much more — there's really no denying that Davis has had quite a fruitful career. She's now 56 and still dazzling.
Cate Blanchett
Considered as one of the best actresses of her generation, Cate Blanchett is a famous thespian, ruling both the screen and stage for more than two decades.
Along with delivering a range of critically acclaimed powerful performances in both indie ventures and blockbuster biggies, this versatile Australian-American actress has also performed in 20 prominent theater productions. With those deep eyes and striking talent, this 52-year-old blonde beauty is still ready to go several miles.
Marisa Tomei
Well, it's not just Iron Man — we too completely swooned over this 'too hot to handle' Aunt May from the recent Spider-Man reboot. After rising to international prominence with her Oscar-nodded performance in 1992 comedy My Cousin Vinny, Marisa Tomei went on to prove herself on both screen and stage for over two decades.
With several critically acclaimed credits under her belt already, Tomei has her plate full to this day. At the age of 56, this talented actress is still scoring high.
Nigella Lawson
You cannot miss this culinary royalty. English TV chef and food writer Nigella Lawson has changed the definition of home cooking. With her charming smile and characteristic warmth, she can easily make any tasty treat more luscious.
Lawson is one of those rare individuals — who can turn a simple home-cooking show into a real feast for the eyes. With her flawless glow and lush brown locks, it's really unbelievable that she's now in her 60s.
Madonna
Speaking of evergreen beauty, we couldn't miss the Queen of Pop. Madonna has been one of the most influential figures in American pop culture. Considering that she holds a Guinness World Record for Best-Selling Female Recording Artist of All Time, Madonna has been reigning the pop industry for four long decades.
She showcased her acting talent also in several films like Desperately Seeking Susan, Dick Tracy, A League of Their Own, and Golden Globe-winning Evita. This timeless diva is still rocking at 63, with that powerful voice and golden locks.
Amy Grant
There's another queen in the pop genre. Delivering a different soulful version of pop, Amy Grant pioneered the crossover of Contemporary Christian Music into mainstream pop music. Considered 'The Queen of Christian Pop,' Grant has been ruling the Christian pop and Gospel music world for almost four decades.
She became the undisputed artist of the particular genre, after releasing her best-selling album to date Heart in Motion in 1991. At the age of 60, the gorgeous diva is still captivating the audience with her voice and natural aura.
Shania Twain
Well, 'queens' are always timeless! 'The Queen of Country Pop,' Shania Twain established herself as the goddess of another pop crossover genre. With 100 million sold records throughout the last three decades, Twain is the best-selling female country music artist in history and one of the best-selling musical artists of all time.
With numerous billboard topper singles, albums and other records, this naturally beautiful country-queen is still reigning the music scene at her 56, with her bewitching voice and smile.
Rene Russo
Frigga, the radiant Queen of Asgard in MCU's Thor series, is actually famed actress Rene Russo, no less radiant in her earthly avatar. After a five-year career break, Russo returned to the screen as a Marvel Cinematic Universe mom — and boy, what a real treat that was for the eyes!
She decorated her comeback in 2014, with a Saturn Award and a BAFTA nomination for her supporting role in the praised crime thriller Nightcrawler. The 67-year-old 'glam-girl' is still captivating her spectators both on and off the screen.
Susan Sarandon
With her stand-out beauty and stunning persona, she can make it to any list of timeless glamour. Active both on screen and stage since 1970s, Susan Sarandon is one of the prolific members of Hollywood's legendary league.
With about 100 films, 50 shows and series, numerous documentaries, and Broadway productions in her acting repertoire, Sarandon's career is one of the most decorated by far — yet she still has so much to do at the age of 75!
Geena Davis
Yes, you saw it coming! If 'Louise' is here, how can 'Thelma' not be? Geena Davis has faced ups and downs in her career, but hasn't lost her foothold completely. From Beetlejuice to Thelma and Louise, she was a prominent leading lady of the industry during the '80s and early-'90s.
After a lengthy break, Davis successfully resurfaced, starring in the Stuart Little franchise as well as the Commander in Chief TV series — for which she won a Golden Globe. Still going strong, this 65-year-old effortless beauty is as adorable as ever.
Kristin Scott Thomas
Dame Kristin Scott Thomas is a crown jewel of the film industry. In her more than three-decade-long career span, Thomas has become a five-time BAFTA Award and Olivier Award nominee.
A prolific face on screen and stage in both English and French languages, this versatile actress holds both the highest royal honor of Britain and the highest French order of merit. At 61, the famed actress is still very active in the industry.
Tilda Swinton
This lady holds the spot not for making it, but for breaking it! Changing the definition of standard 'beauty,' Tilda Swinton has been a pioneer in establishing and breaking societal norms.
A superbly talented actress on screen, Swinton is best known for her leading roles in independent and experimental films, and prominent supporting roles in blockbuster productions. She's also regarded as a popular fashion icon of the 21st century. Now in her 60s, Swinton has continued to make appearances.
Emma Thompson
Dame Emma Thompson is the evergreen heartthrob of the British film industry. Throughout her four-decade-long career span, she has bagged two Oscars, two Golden Globes, two BAFTAs, and one Emmy Award, among others. Shining on stage, screen, and also in screenwriting, multitalented Thompson is the only one in history to win Academy Awards for both writing and acting.
The newer generation knows her best as the bespectacled eccentric Professor Trelawney of the Harry Potter series. Holding the highest British royal order of merit, this legendary thespian still bewitches with her natural acting and dazzling smile.
Kim Basinger
The prominent symbol of the '80s and '90s, Kim Basinger is one of the few living legends of Hollywood's golden age. In 1976, she switched to acting after a successful modeling career.
From playing Bond girl Domino Petachi in Never Say Never Again, to portraying the Oscar-winning femme fatale in L.A. Confidential, Basinger never missed the spotlight. She also reigned the 2000s — with high-grossing films like Cellular and The Sentinel, there's no stopping the bold and beautiful Basinger… even at 67!
Meryl Streep
Last but certainly not least is the ultimate living legend of Hollywood! Rightly hailed as 'the best actress of her generation,' Meryl Streep holds records of prestigious nominations — including 21 Oscar nominations with three wins, and 32 Golden Globe nominations with eight wins.
Particularly noted for her versatility, Streep can make any character her own with her chameleon-like acting skills. Continuing her four-decade-long career, this 72-year-old diva is still dominating the silver screen with her unmatched acting skills, spirited personality, and timeless charm.