Victoria Beckham
We're kicking off the list with one of the most iconic partnerships in the world of football. David Beckham is the England international who famously played for Manchester United and LA Galaxy.
But his wife, Victoria, is equally as famous for being a member of the groundbreaking pop band, Spice Girls. Sparks flew when the pair met in 1997, and they married two years later. Known in the media as Posh and Becks, these two have created an empire!
Amine Gülşe Özil
Fenerbahçe attacking midfielder Mesut Özil started dating Amine Gülşe in 2017. Unlike his fractious relationship with former club Arsenal FC, their bond has gone from strength to strength, and the pair married in 2019.
Amine is a Turkish and Swedish actress, model, and beauty pageant titleholder. She was born and raised in Sweden. She was crowned Miss Turkey 2014 and represented her country at the Miss World 2014 pageant, so it's safe to say that she's a famously beautiful woman! Wow.
Ann-Kathrin Brömmel
Ann-Kathrin Brömmel is an example of another WAG who's famous in her own right. She's a multi-talented model, singer, and cast member on the reality show, Germany's Next Top Model. She has also released two singles in Germany named "This Is Me" and "Body Language".
Her husband is none other than German professional footballer Mario Götze, who plays for Eredivisie club PSV Eindhoven. They welcomed their first child in 2020, a son named Rome Götze.
Izabel Kovačić
Chelsea FC midfielder Mateo Kovačić is one lucky man. He has been married to entrepreneur and model Izabel Kovačić since 2017. Izabel is undoubtedly stunning, but she also has brains to boot!
She has a degree in economics from the University of Zagreb and she's a successful business owner, having launched her own organic and eco-friendly baby product brand 'Lunilou'. She often posts about her glamorous life and adorable family on her popular Instagram page, boasting over 386,000 followers!
Coral Simanovich
Coral Simanovich is a real catch. Married to Barcelona FC player and Spanish national Sergi Roberto, she's one of Israel's most recognisable beauties. She has nearly 650,000 followers on Instagram and has starred in major advertising and fashion campaigns since the beginning of her career.
Proving that she's no trick pony, Coral has also served in the military and obtained a fashion degree from Shenkar College of Engineering and Design. Their first daughter was born in 2019.
Nif Brascia
Don't mess with Nif Brascia. She's not just a pretty face! The girlfriend of Paris Saint-Germain center forward Moise Kean, Brascia is a kickboxing champion from Thailand. She claims to be unbeaten in over 50 fights, proving her prowess in the ring.
Her Instagram page has over 20,000 followers, and she regularly uses her account to show off stunning selfies alongside info about upcoming kickboxing matches. If PSG ever needs some stadium security, Nif could step in no problem!
Daniela Machado
João Cancelo is a Portuguese professional footballer who plays for Manchester City. Defending City's place at the top of the Premier League, Cancelo is a force to be reckoned with on the field.
His beautiful wife, Daniela Machado, has been by his side since he was playing for Inter Milan during the 2017–18 season. Daniela likes to keep her personal life private, making her one of the more low-profile Premier League WAGs. You won't find her posing on Instagram.
Maria Sanchez
Dani Ceballos is a hot prospect, having played for sides including Real Madrid and Arsenal. So, it makes sense that he would have a girlfriend who's as spicy as his football skills! Maria Sanchez is a model and trainee teacher, and they have been together since 2017.
She has been at Dani's side through the ups and downs of his career and loves to support him whenever she can, often posting photos and videos of him on the pitch.
Lisa Gonçalves
Portuguese footballer Andre Gomes plays as a central midfielder for Premier League Club, Everton FC. His girlfriend, Lisa Gonçalves, is a professional dentist based in Barcelona! Distance is no barrier for their love, however. This talented Portuguese brunette is also an exercise fanatic and an avid globetrotter.
She often shares snaps of her travels and workout routines on Instagram to her 23.5k followers. The duo is yet to tie the knot, but who knows what will happen in the future!
Leah Monroe
Influencer Leah Monroe is the girlfriend of Chelsea footballer, Tammy Abraham. Leah uses social media to make her coin, sharing selfies on Instagram with her 20,000 followers. She loves creating beauty and lifestyle content, teaming up with brands for lucrative partnerships, and her luxurious life looks amazing on the 'gram.
Proving her boyfriend isn't the only famous one in the relationship, she even shared a YouTube vlog about her experience getting lip filler injections, which gained over 70,000 views!
Jasmin Buckle
The love story of Aston Villa's Matt Targett and his girlfriend is a true fairytale. They're childhood sweethearts, who met in their home of Hampshire. Matt is so proud of his relationship with Jasmin Buckle that he even has her initials 'JB' in his Instagram bio, accompanied by a heart emoji.
Jasmin is a down-to-earth girl who often uses reselling app Depop to sell her unwanted clothes, proving that even WAGs can be thrifty and fabulous.
Katrine Fogt Friis
The 'humble Dane' Andreas Christensen is all loved up with Swedish swimwear model Katrine Fogt Friis. And we can see why! She often shares trendy photos on her Instagram account, showing off her jet-setting WAG lifestyle.
A true fashionista, she likes to wear more classic clothes than the typical footballer's girlfriend, including relaxed t-shirts and jeans accessorised with gold jewellery and long, black coats. She lives in London with her boyfriend who plays center back for Chelsea FC.
Larissa Pereira
Liverpool ace Roberto Firmino is known for his football skills and rather impressive teeth. We can't help but wonder which one of these assets attracted his wife Larissa Pereira! The couple has been inseparable since meeting in 2014 and they finally married in Brazil in 2017.
Not one to sit back and let her husband do all the work, Pereira is a model and founder of fashion brand BeValen Store. The couple has two daughters together called Valentina and Bella.
Taylor Ward
Taylor Ward is no stranger to the spotlight as her footballer dad, Ashley Ward, played for several different clubs in his career including Crewe Alexandra, Norwich City, Derby County, Barnsley, Blackburn Rovers, and Bradford City.
Her mom, Dawn Ward, is a cast member on the reality TV show, The Real Housewives of Cheshire, and Taylor has even made a few appearances on the show! Taylor is a social media influencer and is currently dating Man City star, Riyad Mahrez.
Leonita Lekaj
Gooner Granit Xkaha is married to the beautiful Leonita Lekaj. The pair are rumored to have met during his time at Borussia Monchengladbach, and they have been happily loved-up ever since.
In 2016, Xhaka made the move to North London to play for the mighty Arsenal FC, but his time at the club has been complicated. Leonita has stuck by him through the ups and downs of Premier League football, while raising their daughter, Ayana — who was born in 2019.
Perrie Edwards
A list of famous football wives and girlfriends would not be complete without Perrie Edwards. She's a star in her own right, as she is an X Factor winner and member of one of the UK's most beloved girl bands, Little Mix.
Perrie started dating Liverpool midfielder Alex Oxlade-Chamberlain (AKA 'The Ox') in November 2016, and the relationship was made official on Instagram as Perrie posted a photo of Alex cuddling her dog, alongside a heart emoji! Too cute!
Sophie Leno
Sophie Leno is a keeper — and so is her husband, German goalie Bernd Leno! 24-year-old Sophie is a talented translator of German & Czech, living in London with her husband who plays for Arsenal FC. The couple started dating in August of 2015 and Sophie became Mrs. Leno in 2020.
She regularly posts photos of her enviable London life on Instagram to her 70,000 followers, and she also has a soft spot for furry friends, having adopted two rescue dogs!
Monique Salum
Manchester United midfielder Fred Rodrigues has been with the club since 2018, but he has been with his wife for even longer. The couple met when he was playing for Shakhtar Donetsk in 2016, and they tied the knot two years later.
Monique clearly possesses brains and beauty, as she is a graduate of the University Centre of Belo Horizonte, and works as a chemical engineer at the Centre for the Development of Nuclear Technology! Wow.
Gabrielle Figueiredo
When former Lille defender Gabriel Magalhaes moved to London to join Arsenal FC, he didn't come alone. He made sure to bring his WAG along for the journey! Gabrielle Figueiredo is a 23-year-old model from Rio de Janeiro.
She loves to show off her toned physique on Instagram, where she also posts about her own fashion brand. She's also a make-up and beauty expert and fitness fanatic, spending plenty of time working out in the gym.
Maja Nilsson Lindelof
Victor Lindelof is not the only famous person in this relationship. The Swedish defender plays for Manchester United FC, and he made the move to the north of England with his well-known wife, blogger Maja Nilsson Lindelof.
The social media guru often shares embarrassing stories about her husband online (like the time he ordered the wrong size mattress for their bed), giving an insight into their family life. The couple welcomed their first child Ted Louie Lindelof in 2019.
Antonela Roccuzzo
Barcelona star Lionel Messi is considered to be one of the greatest football players of all time. Antonela Roccuzzo has been with him from the early days of his career.
She was born in Argentina and initially studied to become a dentist, but she decided to pause her career to pursue fashion and beauty while also raising a family with her famous hubby. The pair have three sons named Thiago, Mateo, and Ciro. Maybe they'll follow in their dad's footsteps…
Pilar Rubio
Pilar Rubio is the wife of La Liga legend Sergio Ramos, but she has carved out her own career in the media as a television presenter and reporter. No wonder she has become a star in front of the camera, with her charismatic personality and stunning looks allowing her to steal the show!
The couple went public with their relationship at the 2013 FIFA Ballon d'Or awards ceremony, and they now have three sons named Alejandro, Marco, and Sergio Junior.
Georgina Rodriguez
Cristiano Ronaldo is another football legend with a pretty colorful dating history. However, he appears to have finally settled down with Georgina Rodriguez. Georgina is a model who reportedly met Cristiano for the first time at a Dolce & Gabbana event.
They started dating in 2016 and soon after, she became pregnant with his fourth child. The pair haven't yet married, but the relationship seems pretty serious. After all, who wouldn't want to stay with someone as beautiful as Georgina?
Edurne Garcia
Edurne Garcia is the wife of Manchester United goalkeeper David De Gea. While De Gea has been lauded as one of the best goalies in the world, Edurne also boasts an impressive career. She's an accomplished singer, actress, and television presenter, known throughout her native Spain.
She has released a total of seven albums and even represented Spain in the Eurovision Song Contest in 2015 with the song "Amanecer". The couple welcomed their first child, Yanay, in March 2021.
Sabrina Eriksen
There is no denying that Christian Eriksen has stolen the headlines at Euro 2020, unfortunately for the wrong reasons. But thankfully, his loving wife Sabrina has been by his side every step of the way.
The couple has had two kids, a boy and a girl during their time together and they are all grateful that he managed to survive his scary in-game cardiac arrest at the beginning of the tournament. Eriksen and Sabrina were invited to attend the Euro 2020 final.
Mia McClenaghan
Reece James has had a fantastic year in his early career. Not only has he won the Champions League and featured briefly for England during their incredible Euro 2020 run, but he has also found himself a beautiful girlfriend.
The Chelsea right-back is currently with Mia McClenaghan. The student recently completed her law degree and has a pretty active presence on social media. From wearing designer clothes to hanging out with her soccer superstar boyfriend, the future looks bright for Mia.
Benedetta Quagli
One of Italy's standout performers at Euro 2020 was Federico Chiesa, who plies his trade for Serie A heavyweights Juventus. The young winger has been in a relationship with Benedetta Quagli since 2019.
A famous model, brunette Quagli has over 80k followers on Instagram and is a proud native of Florence, which is where Chiesa started off his career at. Chiesa has already eclipsed his father's success, Enrico Chiesa, who was also a professional soccer player.
Katie Goodland
It's amazing to think that Harry Kane and his wife Katie started off as simply friends at elementary school. The young man from North London has transformed into one of the most prolific strikers in the world of soccer.
But he couldn't have done it without his beloved Katie by his side. The couple tied the knot in 2019, a couple of years after welcoming their first child – Ivy. They have since had a second child together – a boy called Louis.
Jessica Melena
Ciro Immobile might not be firing on all cylinders for the Italian national team, but he certainly is as far as his relationship is concerned. Around the time the two met, Jessica Melena was studying criminology and forensic science at the University of L'Aquila.
However, she decided to put that dream to one side when she shacked up with Immobile. Two years later, the couple tied the knot in Melena's hometown of Buccianico. They have since had three kids together.
Paige Milian
Raheem Sterling has certainly received a lot of criticism, as well as online abuse over the last couple of years. But it seems like the Manchester City winger has silenced all of his doubters through his awesome performances at Euro 2020.
Things look good for Raheem in the love department, having been with Paige Milian since 2012. That was when Sterling was still playing for Liverpool and Paige was working at JD Sports. These days, they live in a $4.8 million mansion in Cheshire.
Jessica Aidi
There is no denying that Marco Verratti is an integral part of the Italian national team's midfield. But you could say that Jessica Aidi plays an even more integral part in his own life off the field.
The couple started dating after Verratti divorced his ex-wife Laura Zazzara, with whom he has two kids. They were first spotted together at the Monaco Grand Prix in 2019 and they have since got engaged. Aidi works for Next Models in Paris/Milan.
Fern Hawkins
A lot has been said about the size of Harry Maguire's head and the threat it poses during set-piece situations. But off the field, the Sheffield-born defender's fiancee Fern makes sure his head never gets too big.
The couple met back in 2011 and since then, they have had two daughters – Piper Rose and Lillie Saint. There is no denying that Fern has been overwhelmingly proud of "Slabhead's" efforts at Euro 2020, cheering him on from the stands at Wembley Stadium.
Martina Maccari
At the heart of Italy's rock-solid defense are veteran center backs Georgio Chiellini and Leonardo Bonucci, who have played together at club and national level for a long, long time.
Outside of soccer though, Bonucci's partner in crime is the beautiful Martina Maccari. He met the former model/blogger through a mutual friend back in 2008. It goes without saying that Maccari has been watching Bonucci's every move during his time at Euro 2020. And we imagine she'll continue to do so for the foreseeable future.
Megan Davison
While his time spent playing for Everton has been met with plenty of criticism, Jordan Pickford never seems to put a foot wrong between the goalposts for his country. The young goalkeeper seems to be doing pretty well in his personal life too.
Jordan and Megan started dating when they were only 14 years old. Upon his return from the World Cup in 2018, Pickford was excited to announce his engagement to Megan and in 2020, they tied the knot. Megan has a degree from Sunderland University.
Natalia Barulich
PSG ace Neymar is known for his skill on the pitch and impressive goalscoring record. However, his romantic life is subject to lots of press speculation, as he split with his long-term girlfriend, Bruna Marquezine, in 2018. He's now linked to Cuban-Croatian beauty Natalia Barulich.
She seemed to confirm their relationship with an Instagram post, writing, "Everyone knows how extraordinarily talented you are, but if they could only see how real & beautiful you are inside your heart."
Oriana Sabatini
Juventus center forward Paulo Dybala is often referred to as "La Joya" (meaning "the jewel") due to his creative style of play, pace, talent, and eye for goal. However, we think that his girlfriend Oriana Sabatini is also worthy of that nickname!
The Argentine model, actress, and singer started dating Dybala in 2017 — and their relationship has continued to thrive, just like their respective careers. They met at an Ariana Grande concert, as Oriana was a supporting act on the tour!
Sophia Weber
German youngster Kai Havertz has skill beyond his 21 years. He currently plays for Premier League club Chelsea FC, but his relationship is a lot more understated than many of the others on this list. He prefers to keep his romance with Sophia Weber out of the spotlight, save for a few Instagram snaps.
Bright-eyed brunette Weber is believed to have been a childhood friend of Havertz, and she's even rumored to be his first and only serious girlfriend.
Candice Brook
Winger Leroy Sane has been in a relationship with New Yorker Candice Brook since 2017. She's no stranger to high-profile love affairs, having been linked in the past to singer Chris Brown, NBA player Safaree Samuels, and rapper French Montana. However, this is her first time experiencing WAG life!
The singer and model juggles her career with taking care of her two kids, Rio Stella and Tobias, in their home of Germany — where Sane plays for Bayern Munich.
Annekee Molenaar
Annekee Molenaar rounds off the list. The young model comes from a football family, as her father Keje Molenaar played for FC Volendam, Ajax Amsterdam, Feyenoord Rotterdam, and SVV. Maybe that's why she clicked with Juventus star Matthijs de Ligt.
This couple is hugely successful in their careers despite their youth, living together in an apartment worth 1.2 million euros! The stunning Dutch model loves to share selfies and images from her photoshoots, as she models for worldwide fashion brands.
Shakira
In 2010, Barcelona FC defender and Spanish international soccer star Gerard Pique got more than he bargained for when he agreed to star in the music video for 'Waka Waka', the official promotional song for the FIFA World Cup.
He met Colombian pop star Shakira on set, and their love affair began! Although they're not married, these two have been together for almost 10 years and have two sons — Milan (six years old), and Sasha (four years old). They're a true power couple!
40+ Mid-Action Sports Photos That Are Timed to Perfection
As action-packed as sports are, there isn't time to look at the snapshots right away. The good news is that photographers are at the ready to save a moment for later. Sometimes, they even catch moments that are so perfectly-timed, the photo, in the end, is all the more striking. These are some of our favorite photos of athletes in action.
Watch Out!
Being a talented basketball player takes a lot of passion, hard work, and training. Still, it's possible for a talented athlete to make mistakes, just like anybody else.
This particular basketball player might have misjudged his movements here. While he managed to score the point, the price he had to pay was a basketball to the face. It's probably pretty important to remember that the basket is open at the bottom. We're sure that something like this had to hurt!
A Powerful Pose
There are certain photos of athletes that capture less than graceful moments. This time, though, the photographer nearby was ready to capture a moment of triumph and victory.
This photo features Federica Pellegrini, a gold medal swimmer. This particular image captured the moment that she won the 200-meter world title in 2019, for the fourth time. The picture shows the athlete's face at that moment that her hard work paid off. The image almost looks like a Renaissance painting!
That's Not the Ball!
When you're the goalie on a team, your job is to defend the goal at all costs. No matter what, you should make sure the other team doesn't score.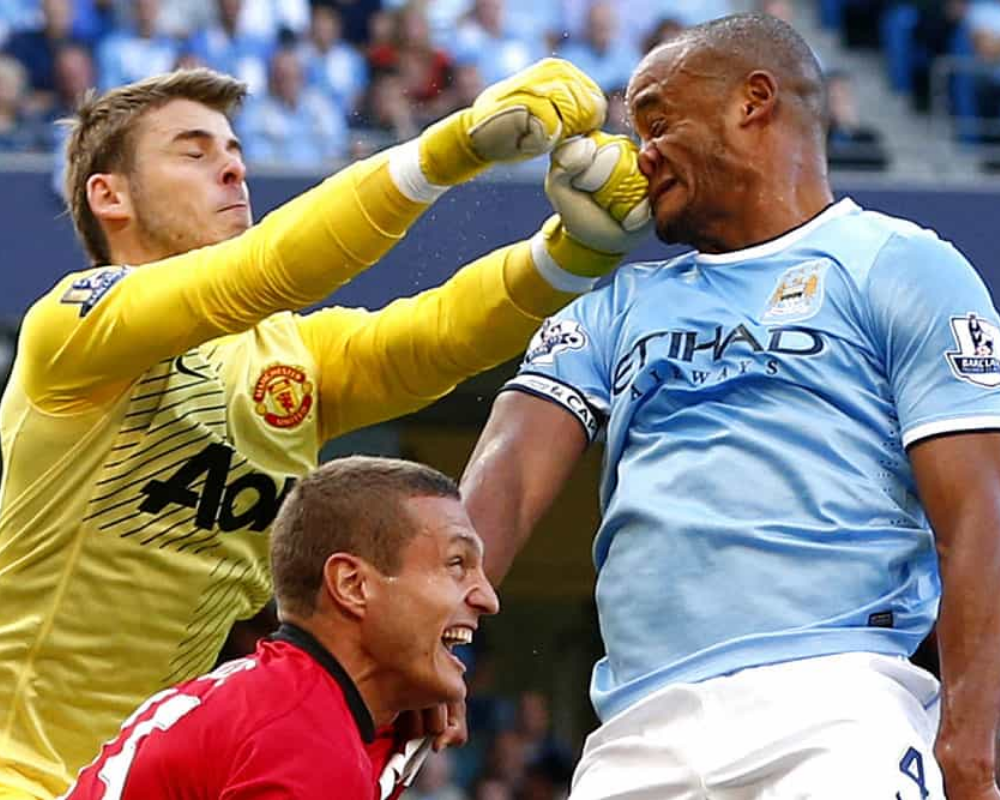 This goalie may have taken this job a little too seriously or, at the very least, missed when he was aiming for the actual ball. Instead, he managed to knock another player away from the goal with a punch to the face! While it wasn't intended, it still looks pretty painful.
How Many People?
This picture is among one of the more confusing sports photos when you first take it in. For a moment, it looks like this woman might have some unexpected talent or proportions.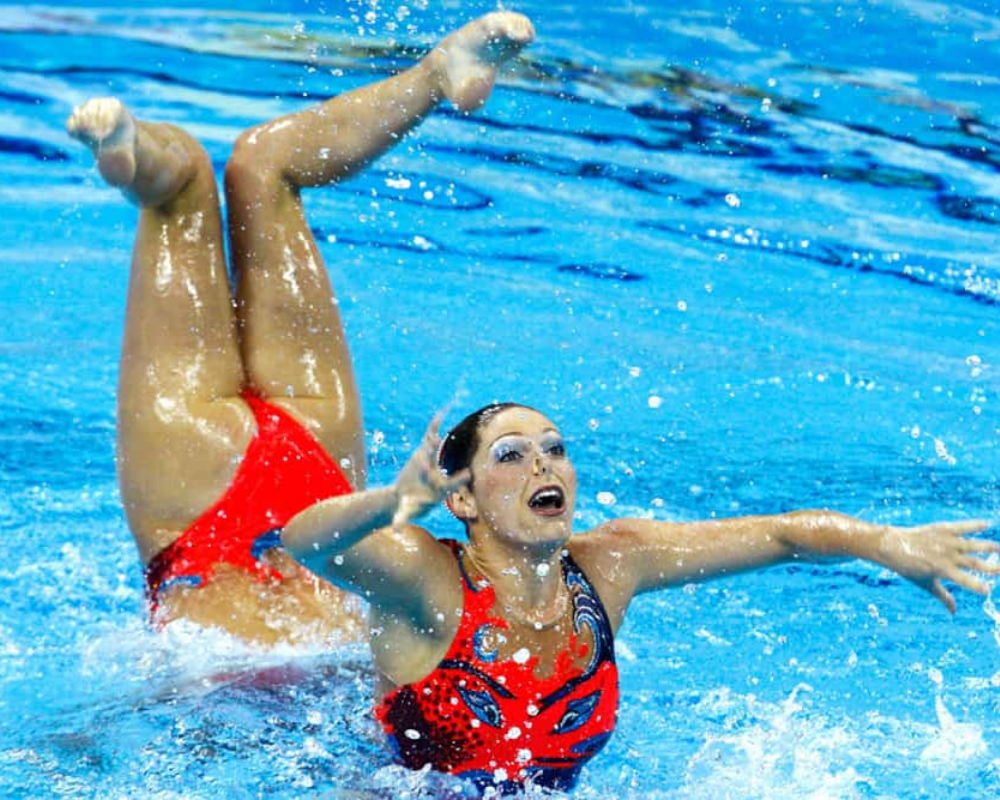 Actually, this photo shows a pair of swimmers in the water, performing a synchronized swimming routine. Interestingly, this photo also shows us that the practice can look a little less perfect on an individual level. We're sure the bigger routine was stunning!
Offering Dual Perspectives
Usually, a photographer is limited to a single perspective in sports photos. It makes sense – there just isn't as much time to set up complicated rigs to catch more than a single camera.
With a bit of help from practical effects, this photographer managed to get this dual perspective. While the fighter himself is taking this kick in his side, the tattoo on his back shows a skull getting kicked right in the jaw. Either way, this looks painful.
Breaking the Surface
Swimmers are pretty impressive athletes to watch in action. Even photos of meets and competitions often show them slicing through the water quickly.
This photo doesn't quite look as elegant or powerful. As a matter of fact, this swimmer looks a little different than usual. That's because this photo was so perfectly timed, it caught the image a mere moment before the swimmer broke the water. As a result, they're still distorted by looking at them through the water.
Stick the Landing!
Have you ever wondered how gymnasts can pull off such gravity-defying feats without fear? Well, for one, they aren't always without any fear during their routines.
This photo shows as much. The startled look in this gymnast's eyes tells a story, making this a perfectly timed photo. She looks like she's worried that she might not stick the landing or pull of her routine as she'd like. We have to say, we'd look pretty terrified in her position too.
Right on the Nose
There are some places that you just really don't want to get hit. It'd be pretty jarring to get hit right on your nose, it'll bring tears to your eyes!
That's why we have so much sympathy for this athlete. He was waiting to catch the ball but acted a little too late. As a result, the ball whizzed past his glove and hit him right on the nose! This is something that anyone would find a rough moment and we don't envy this player after the photo.
Taking Him Down Too
Team sports can be difficult because it requires multiple athletes to work together in a coordinated effort. The result is sometimes stunningly impressive.
Other times, photos show when groups of athletes aren't always so poised together. This photo, in particular, shows one player taking a tumble and seemingly taking the other player down with him. As such a perfectly timed photo, this one showcases the moment that the two collided against one another before hitting the ground.
What Happened to Her Head?!
This is among the sports photos that look frightening when you first see it. The good news is that there's nothing unsettling happening here aside from some notable talent.
This athlete looks like they've lost their head in this photo. Yet, all that's actually happening is that her head is bent this far backward mid-routine. It's bent so far back, in fact, that the photographer couldn't even capture it from this angle. The floating effect is just the gymnast mid-jump.
Sliding Safe
In baseball, the batter has two main jobs. Of course, they have to hit the ball and they have to do their best to make it around the bases and home safely.
This player obviously knew the value of landing on the base safe was. As such, they were willing to dive in if that's what got them where they needed to go. Lucky for us, a photographer was ready to grab the perfect snapshot as they flew through the air.
Super Mom Saves the Day
Catching a ball is any fan's dream when they make their way to a baseball game. Yet, it isn't an easy feat. If you want to be the lucky fan who grabs one, you have to work quickly.
In photos like these, you can see just how much fans are scrambling to be the ones to catch the ball. The winning prize went to unexpected interference, though. This mom managed to catch the ball with ease in her mitt while still keeping a tight grip on her baby.
An Impressive Contortion
It's a fact that athletes tend to be more flexible than you average person. Still, we're sometimes a little taken aback by the feats that they can accomplish.
This figure skater was pulling off a pretty impressive move when this picture was snapped. Photos like these show how figure skaters can move in ways that most of us couldn't imagine doing ourselves. Her ability to pull her leg up beside her head like this is astonishing and impressive!
Losing a Shoe
It already seems incredibly difficult to accomplish Olympic-tier track feats. We can't imagine trying to do this while only wearing one shoe as if it needs an extra challenge.
That's exactly what Etenesh Diro, an Ethiopian track star, did when she competed in the steeplechase at the 2016 Olympics in Rio. Her shoe came off partway through the race but she kept going, one foot bare on the track. In all, she finished the race in 7th place.
Jumping Hurdles
There are certain things that athletes do that seem to defy the laws of physics. For instance, jumping hurdles is something that most people aren't quite as agile at doing.
Yet, breaking these usual rules of movement doesn't always mean smiling for the camera. This picture is mesmerizing because it shows this athlete is giving it her all to make it over this hurdle. Not to mention, it's a stunning action shot as she makes it over the bar.
Take a Leap
For athletes who play football, tackling and being tackled is a big part of the job. Ideally, you want to avoid being tackled as much as possible, for the game and your health.
This player managed to avoid a tackle in the most unexpected way. Rather than feigning to the left or right, he simply leaped over the head of the player trying to tackle him. It's a pretty graceful jump too, he looks like a dancer!
The Aim Is a Bit Off
There are certain sports you expect to be dangerous when you see them like boxing or football. Even sports like soccer can become full contact with the wrong move.
This pair of players were trying to handle the ball when one kick was severely misplaced. While it's clearly an accident and the kick was meant for the soccer ball, this photo catches their faces in this moment showing their emotions as it happened. We hope they at least got a time out to recover.
Right Before Disaster
When it comes to perfectly timed sports photos, it's usually right after or as something is happening. This picture shakes up that formula a bit.
Instead of the traditional format for these pictures, the viewer can see danger looming in this photo. Unfortunately, this woman can't see the pitch coming behind her that's about to hit her in the head! We hope, at the very least, that she wasn't too badly injured once the camera flashed and the baseball made contact.
Two-in-One Athletes
When you glance at this picture for the first time, you might think this athlete has an unfair advantage over his peers. He has four arms!
The good news is that there isn't anything fishy going on here. Instead, this is just the result of a photographer who was in the right place at the right time. These two athletes just happened to be standing right in line with one another, giving the first player a four-armed appearance.
A Lot of Feelings
They say that photos can speak a thousand words each and this one sure lives up to the task. There are such a wide variety of expressions in a single frame captured at the perfect moment.
The cause for this is the baseball rushing towards them. To be fair, that would provoke a strong reaction from anyone! There are faces here that show that they're excited for the chance to catch a baseball to those who don't want to get hit and everyone else in between.
Right After Contact
There are few sports where hurting your opponent is the goal. At least, the goal is to stun your opponent with your actions and maybe even get them to tap out.
That means that full-contact sports like boxing and martial arts can lead to some interesting photos. This particular photographer managed to capture these fighters right as one struck the other. The result shows us exactly what it looks like to be on the business end of a professional punch.
Right in the Face
When you're playing a sport, you have to trust your equipment as much as you trust your teammates. After all, if your equipment isn't working, what can you do?
This player took a swing and, well, he didn't quite miss. As a matter of fact, the ball and the bat connected hard enough that the bat snapped into two pieces! Even worse for this player, the second piece hit him in the face. At least the photographer was there to capture it.
Shot Put Isn't Easy
There are a lot of sports where an athlete can compensate for their strength with clever tactics or other skills. For something like shot put events, strength is a necessary factor.
If these small balls don't look hard to throw, check out this athlete's face as he tried to throw one. From his contorted facial features, you can tell he's definitely working hard to pull off this feat. It doesn't look like he's relaxing any part of his body as he winds up for this throw.
Say Cheese!
A lot of sports photos show the athletes in action. This means they don't always have time to look up and see the person capturing the photograph.
This wrestler didn't fit the bill for the average sports photo, though. While he was mid-match, he happened to directly face the camera here. We can't say for sure that he did this on purpose or even noticed the camera in the middle of the match but it's still a perfectly timed photo.
It Hurts to Look At
There are certain photos that you see of athletes and you can't help but sympathize. After all, there's nothing quite like a painful blow when tensions are high.
If you've never been in the position of this athlete, a soccer ball to the face is no fun. This must be especially true when the soccer ball is kicked by another professional athlete. Still, we have to commend the photographer who was at the ready to capture photos like this that day.
This Won't Be Good
There are times when a photographer manages to catch sports photos that are perfect at the moment. After the snapshot, though, there are consequences for the posing.
In this image, the photographer caught a perfect shot of two players as one of them went to dunk a shot. The photo catches the player in red sailing over the one in white with the latter leaning incredibly far backward. We're sure that they looked a little less graceful a second later.
Smile for the Camera
These two basketball players don't look like this shot was taken in the middle of a big game. In fact, their expressions look more than a little surprised.
We're sure the faces they're making are largely because they're in the heat of the moment of the game. On the other hand, they are reminiscent of the faces that a pair of young friends caught in trouble might make. We have to wonder what out of frame caught their attention in such a way!
That Looks Painful
The first time you glance at photos like these, you might wince. When you look at them the first time, it seems like this athlete must be horribly injured for his arm to bend this way.
Actually, this player is fine! As a matter of fact, he was getting ready to throw a blistering fastball at the batter. The weird pose in the picture was actually captured as he wound up his throw. In garnering momentum, though, he swung his arm in seemingly impossible ways.
Photo Panic
There are few times that a photograph can be summed up in a single word. Judging from these faces, we can guess that this time, this photo can be summed up into one sentiment: panic.
The photo couldn't have been more perfectly-timed by the photographer if they tried. Both players show faces that seem frozen in fear of whatever they're looking at that's out of frame. The good news is that there isn't a monster charging for these guys but there sure is a soccer ball headed their way.
Crazy Control
If you're watching a quick-paced sport, you might not notice the crazy feats athletes pull off right away. That's why photos of the event can be so astounding to viewers.
This photo shows that off rather well. While most people watching this athlete at the moment noticed his rapidly changing position, they may not have seen this right away. The athlete managed to lean so far that he was parallel to the water. He could look at his own reflection!
You Can Pick Your Friends…
There are certain things that athletes do for each other as friends both on and off the court, just like anybody else. This pair might have taken things a little far this time.
The reality behind this shot is probably the other player jumping up to take the ball from the other playing and simply missing. However, it just so happens that this person happened to hit the other player in the face so it looks like he's picking his nose.
Call It a Day
We've all had a bad day before. However, not many of us have photographers on hand to catch an action shot of the moment for us.
This particular Yankees pitcher seems like he needs a time out or just to start fresh tomorrow. We're glad that there was a photographer like this to commemorate the moment. His hands are thrown up in an expression that seems pretty tired. Still, the bat floats in the air in front of him, still suspended before falling.
Keep Your Eye on the Ball
This photo has a story behind it. In just the image alone, though, there is a lot of emotion. The tennis player looks focused but he also looks a bit nervous.
The tennis player in the picture is actually Louk Sorenson, an Irish athlete. The picture was taken at the 2010 Australian Open where Sorenson actually made history. We're glad that he dodged the ball moving towards his face here because he went on to be the first Irish player to win a match there.
What's Happening Here?
This picture can look pretty confusing, especially if you aren't familiar with the game. This is a sport called sepak takraw or, in plain English, kick volleyball.
The name of the game is fairly close to standard volleyball. However, instead of using your hands and arms, the game's rules require players to use their knees, feet, chest, or head. With rules like these, photos such as this one aren't uncommon as players try to keep the ball moving and earn a score.
Taking a Breath
For fans sitting in the bleachers or watching from the pulled-out view of a TV camera, there are certain moments you miss up close. Photographers are ready to catch these moments.
This swimmer is easily noticeable as quick and talented. On the other hand, this photographer managed to freeze him in a unique moment. The image shows the swimmer right as he comes up for a breath. As a result, the water he just broke the surface of is still surging up around him.
Time to Move!
If there's one emotion that this photo invokes in us, it's worry. It doesn't seem like this athlete is going to have the time to move before this tennis ball passes through.
The athlete in the picture is Simona Halep, a Romanian tennis player. One of the things that makes this photo so memorable is how raw it is. Halep couldn't hide the look on her face right before this ball came dangerously close. We wouldn't be able to either!
Not Always Graceful
Figure skaters are usually known as one of the most graceful sports to watch. Photos of these athletes almost always show stunning leaps, spins, and more.
Once in a while, though, even these masters of grace can have a less than a graceful moment. This photographer snapped a picture right as this figure skating routine went awry. While we're sure that these two had a wonderful routine planned for this, it didn't quite go to plan. It could happen to anybody in their shoes.
Not Quite the Plan
When you go to a baseball game, you know what basic experiences to expect. For instance, you might have the chance to catch a ball and see your favorite team win.
What you might not expect out of these possibilities, is a bat rather than a ball flying into the crowd. This would be pretty scary considering a wayward bat can be dangerous. This is especially true of a wayward bat that was tossed by a professional athlete. This person could probably stand some ice.
Dancing or Playing Basketball?
There are times that photos in sports don't look the most graceful. That doesn't mean that the phenomena never happens and there are some great examples of it.
When it comes to this concept, few people can outshine this photo of J.R. Smith of the New York Knicks. While he's probably dunking a basket here, he could easily be mistaken for a dancer attempting a graceful leap. Either way, it seems like a meaningful moment!
Perfect Timing and Serena Williams
There are few athletes that achieve the same status as a household name like athletes such as Serena Williams. She's known well for dominating on the tennis court.
Many would say that Williams almost never lets a ball past her. This photo captured that spirit and determination perfectly. While she gets ready for a backhand swing, she's doing it all in mid-air. The shadow beneath her makes sure the viewer knows she's really diving to hit the ball.
Break This One Down
Out of all the sports photos taken over the years, some need a bit closer inspection before moving on. There's definitely a lot happening in this photo.
First of all, it's important to note not only the position of this person but their helmet across the frame as well. To make it even more like a painting, there's even someone in the center, reacting in real-time as it happens. Still, we hope that this baseball player made it out of this okay.
Hazardous Horse Racing
Horse races have long been a staple for sports fans. In these cases, though, the perfectly timed photos aren't just up to the jockeys and photographers but the horses as well.
This horse obviously decided that it didn't really feel like racing that day either. While jockeys are trained how to handle a horse that's being unruly, even at top speeds, this horse still managed to throw his rider. A photographer nearby was able to capture the moment the rider came flying off.
It Doesn't Seem Real
We couldn't blame you if your first thought about this picture was that it isn't real. Actually, it's completely real and there's proof thanks to photographers like these.
The person at the heart of this stunt is Robbie Madison. Madison is a motorbike stunt rider who is from Australia. He's said that this particular stunt in the Pacific Ocean took quite a while to prepare for – two years in fact! In the end, he managed to ride that wave.
A Stunning Image
Photos of athletes aren't always as polished and poised as a celebrity on the red carpet. It makes sense – they are trying to accomplish a stunning feat rather than posing.
This athlete looks like they weren't ready for their closeup here but it actually is an amazing picture. The photographer has caught this athlete mid-dive. That explains why she's in such a braced position and her expression is so focused. You can't get more action-packed than this photo!
Rickie Weeks' Bad Day
Adding another of the most well-timed sports photo this time meant an unlucky event for Rickie Weeks. At the time, Weeks was playing for the Milwaukee Brewers.
The photo shows Weeks right as a pitch came his way. Unfortunately, instead of slamming against the bat, the ball was slightly off-base and hit the player in the jaw. The photographer managed to capture the scene just as the baseball hit his chin. Someone needs to get this man an ice pack.