When it comes to leg workouts, one exercise that shouldn't be overlooked is leg extension. The leg extension exercise primarily focuses on the quadriceps, with special attention to the muscle rectus femoris.
Leg Extension Benefits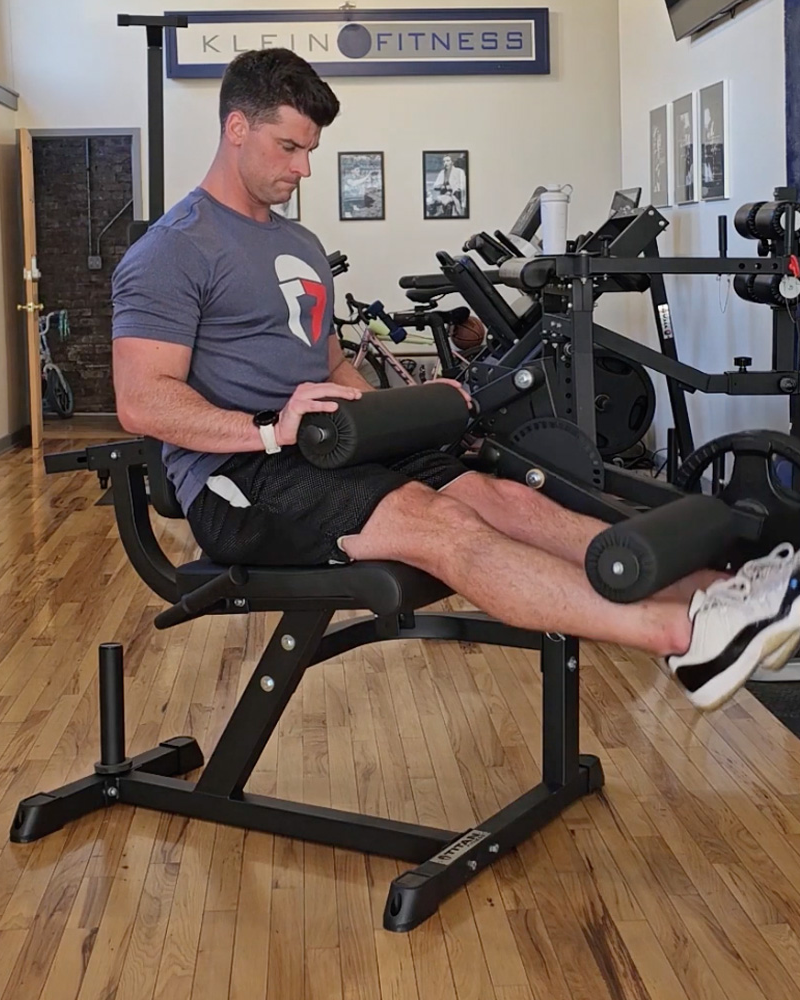 As you raise and lower the padded bar against resistance, you can see your quadriceps flex and contract, providing immediate visual feedback of your muscle engagement. Quads are responsible for important movements like walking, running, jumping, and squatting. Neglecting these muscles can lead to imbalances and weaknesses in your lower body. Strengthening these muscles is vital for knee stability, hip flexibility, and overall lower body strength.
How to Do Leg Extensions?
1. Adjust the weight on the leg extension machine, starting with a lighter resistance to ensure proper form and engagement of your quads.
2. Position your leg under the pad and onto the rails of the machine for stability.
3. Slowly lift your legs as far as you can, exhaling as you do so.
4. Hold the fully extended position for two seconds, keeping tension in your quads without locking your knees.
5. Inhale as you lower the weight back to the starting position. Control the descent and avoid dropping your legs or going beyond a 90-degree angle.
How to Add Leg Extensions to Your Workout
Leg extensions are typically performed during leg workouts, after compound exercises like deadlifts or squats. However, you can experiment and find the order that works best for you. Some people prefer to start with leg extensions to target the quads early on, while others like to finish with them to ensure a final burnout.
Leg Extension Variations
You can sit on a chair and use ankle weights or resistance bands to create resistance for your quadriceps, just like the leg extension machine. These variations offer a similar effect and help maintain quad strength even without the specific machine.
Timothée Chalamet Has Revealed His Wonka Costume On Social Media
Timothée Chalamet recently took to social media and shared an image of himself in the Willie Wonka costume and his signature top hat. This first look at his upcoming film called Wonka has given fans a glimpse of what the young chocolatier would look like.
The Story of Wonka Will Focus On the Chocolatier's Early Days and His Meeting With the Oompa-Loompas
Timothée Chalamet posted the picture of himself as Wonka on his Instagram, adding a caption stating that the suspense was terrible and he hoped it would last. This was a reference to a line spoken by Gene Wilder's Wonka in the 1971 adaptation of Willy Wonka & the Chocolate Factory. The line originally came from the Oscar Wilde play The Importance of Being Earnest.
Chalamet's Wonka Picture Appeared On Most Social Media
Apparently, the actor was very excited because he posted his Wonka image on both his Twitter and Instagram accounts. Meanwhile, Warner Bros shared the same image through Instagram and Facebook. Currently, all plot details are kept under wraps, but it seems that the Warner Bros prequel will explore how Willy Wonka became the illustrious candymaker beloved by all. The production seems to be a musical, and Chalamet's representatives have confirmed that the actor will be dancing and singing in the film.
Author Roald Dahl created Willy Wonka for his 1964 novel Charlie and the Chocolate Factory. In it, a boy called Charlie Bucket wins a golden ticket to tour the terrifying and wondrous chocolate factory that Wonka runs. Since then, the book has been adapted for the big screen twice, with Gene Wilder as Wonka in 1971 and Johnny Depp taking the role in 2005's Tim Burton version.
Paddington series director Paul King is helming the new Wonka project with David Heyman producing. Along with Chalamet, the cast includes stars like Sally Hawkins, Olivia Colman, Keegan-Michael Key, Rowan Atkinson, and others. Stars who were considered for the role of Wonka by the studio before they chose Chalamet included Ryan Gosling, Donald Glover, and Ezra Miller. Wonka is set to appear in theaters in March 2023.