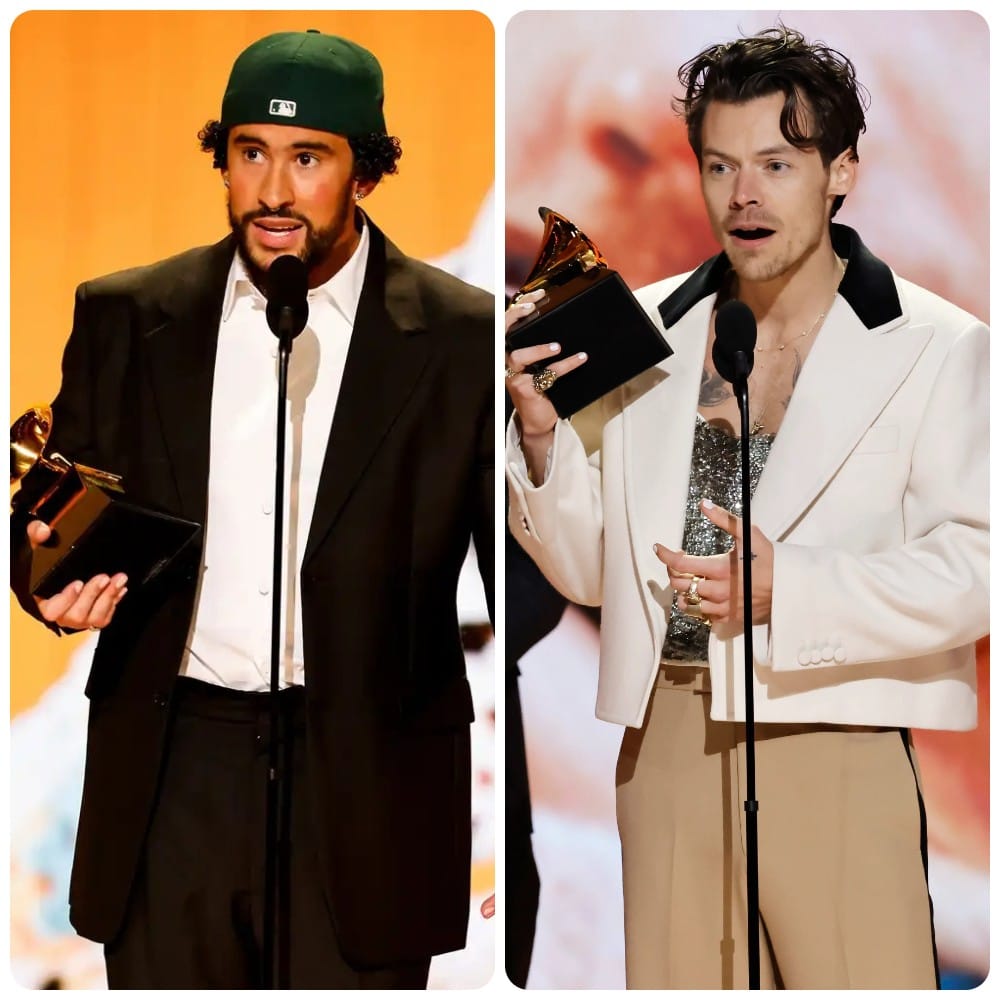 The recent 2023 Grammys witnessed the vast ensemble of the planet's most-listened, most-sold, and most-streamed artists on stage on Music's Biggest Night, and most of the men were looking dapper in, well, casuals! While there was a pair of casual washed jeans for every tailored suit, Dodgers caps and snapback hats had their moments too! The staunchly normal menswear surely set the tone of the star-studded night.
The Normcore Attires
Even big-ticket award shows like Grammys are no longer immune to the trend of normcore. Harry Styles, the Album of the Year winner, hit the carpet in his recent-staple gender-fluid clothing – a harlequin-print jumpsuit with a plunging neckline. Later during mid-show, he changed into a relatively relaxed cropped tux jacket from Gucci and tan trousers. Bad Bunny, the winner of the Best Musica Urbana Album, opened the broadcast by leading a procession of bomba y plena dancers in colorful skirts. He himself donned a plain white T-shirt paired with hip-bone-high-rise jeans, no belt, a snapback hat placed backward, and white tennis shoes. To accept his award, later, he changed into a black suit but didn't forget to tuck his curls underneath a dark green LA Dodgers fitted cap, also placed backward!
The Quiet Luxury
This is another route the celebs took to prevail normcore at the Grammys. Omar Apollo, Best New Artist nominee, appeared in an open leather blazer worn over an unbuttoned striped shirt over a white T-shirt. A pair of hefty black shoes and light blue jeans completed his relaxed look, which was highly luxurious, only if you know to look at the brand tickets! Apollo's luxe outfit was head-to-toe Bottega Veneta, with the jeans and the tee made of printed leather. GloRilla collaborator Hitkidd slayed on the red carpet in his near-cosplay rendition of normcore. His cool outfit included a tan jacket over a white collared shirt, blue jeans, a red striped tie, and a white trucker cap.
Harrison Ford Couldn't Care Less About Fans' Star Wars Theories
So, how exactly did Han Solo appear before Ben Skywalker in the middle of the movie after that somewhat massively disappointing end of the Skywalker Saga? It's true that The Rise of Skywalker opened with the line: "The dead speak!" but still many wonder how Han (who as you may remember died in The Force Awakens) was able to appear in the latest movie. Well, despite the thousands of theories that flooded the Internet, there is one person in the world who has no theories, and frankly, doesn't seem to care about it. Yes, it's Han Solo himself, a.k.a., Harrison Ford. 
It's Sad but It's True
The A-list actor recently sat down with USA Today to promote his new movie Call of the Wild in which he partners with a CGI dog to make a historic adaptation of the classic book by Jack London. During the interview, the topic of The Rise of Skywalker came up, and Ford wasn't at all excited to speculate theories about Han's appearance before his son. When asked if he appeared as a Force ghost, he just said: "I don't know what a Force ghost is…," then he simply added, "And I don't care!" 
Harrison Ford Doesn't Beat Around the Bush
Fortunately or unfortunately for his fans, this isn't the first time the 77-year old actor has proudly stated he doesn't care much about the details of the movies he's starring in. Ford has stated more than once that "getting paid" is the main reason he's agreed to act in a movie. If we're being fair, that's refreshingly relatable, and the type of honesty we need more of today. As for The Rise of Skywalker, Ford recalled that joining the movie was a great chance to do another scene with Adam Driver, as Kylo Ren.